International students share their Katrina experiences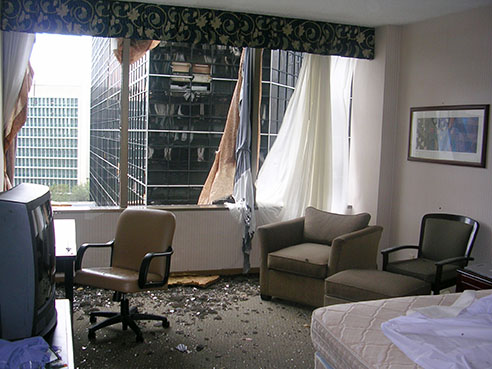 He left Puerto Rico on Aug. 20, 2005 to finish what would have been his last semester at Loyola.
Then Hurricane Katrina happened.
Hector Arroyo, A'05, found himself with one hand on the doorknob at his 248 Cherokee St. apartment, near Lake Pontchartrain, the moment Mayor Ray Nagin issued the city's first-ever mandatory evacuation order.
According to Arroyo he initially intended to evacuate the city on a car he borrowed from a friend, but quickly realized his plan would not be a realistic option, when he encountered a landslide of thousands of cars on the I-10.
"Officials were not properly engaged in the process," Arroyo said "I was stuck in the car for an hour in a trail that under normal circumstances would have taken me 5 to 8 minutes to cover."
After his failed attempt to evacuate New Orleans, Arroyo decided to weather the storm from the Hyatt located in the French Quarter due to the heavy presence of security officials and military corps patrolling the adjacent areas.
"I checked in, around 3:00pm, unaware I was in for an extended stay and unconsciously preparing for what would later become the most impactful and transformative experience of my life," Arroyo said.
Arroyo watched from the third floor ballroom, alongside 250 other refugees, how the uncontrollable water levels arose from 5 to 6 feet off the ground, flooding 80 percent of New Orleans and vanishing numerous businesses in the tourist district.
"People had no idea of the risks involved in living in a city with sea levels deeper than the national average," Arroyo said. "We were never properly instructed of the possible ramifications of this calamity."
He said that whole week represented an agonizing period, and believes that the governments failed preemptive logistic approach towards everything related to Hurricane Katrina, intensified the storms disastrous aftermath for New Orleans.
"What shook me the most was when a group of 20 heavily armed convicts, that were being transported to Houston, broke loose from their bus and took over the hotel," Arroyo said. "They shot helicopters trying to organize evacuating efforts, forced minors to engage in sexual activity and overall, created a colossal mixture of horrible scenarios."
Arroyo believes the appalling scenes he saw during Katrina pushed him to pursue an introspective and thoughtful approach about how he would deal with the devastation around him, which ultimately helped him find his way back home.
"I was able to return home because I gathered myself up and let everything play out without forcing anything," Arroyo said.
According to a Loyola press release issued on December 9, 2005, following cleanup, the university reopened for the spring semester in January 9, 2006, and welcomed back 91 percent of its undergraduate students.
Monica Escasena's cab ride home from the airport was filled with rare sights of lone pedestrians and abandoned neighborhoods.Yet, as the driver neared Loyola grounds, she saw people standing street-side, waving and clapping as her taxi drove past.
"They seemed thankful when they saw people were actually starting to come back to New Orleans," Escasena said. "When I rolled my window down, I heard them yelling 'thanks for coming back.'"
Escasena, A'08, who was born and raised in Guaynabo, Puerto Rico, came back to Loyola for the spring semester on January 2006 after spending the fall semester at Loyola Chicago.
"It was very overwhelming being back, mainly because I witnessed how a city with boundless culture and joy turned into a place reign by abandonment," Escasena said.
Escasena said that even though Loyola Chicago welcomed refugee students with dorm rooms, meal plans, class schedules and mentorship, she always knew she would go back to New Orleans.
"I missed the food, the music, the sense of home, but most of all, I missed the people," Escasena said. "I couldn't let go of the city."
According to Alexandra Urrutia, A'07, the overall emotional and physical decay she saw throughout the city after returning to Loyola from San Juan, Puerto Rico, relied on the fact that almost every familiar area had become a public sanitation hazard.
"We all lost something, but we all gained something as well," Urrutia said. "I personally realized a lot more about the importance of giving back."
Urrutia developed a profound sense of respect and admiration for all the people who returned to New Orleans despite the devastation left behind by Katrina because she saw people equally motivated to give back to the city.
"It was the right thing to do in order to make it New Orleans again," Urrutia said.
According to an analysis released by The Data Center on Aug. 15, 2015, even though Katrina's frightful aftermath displaced an estimated of 600,000 households in the Gulf Coast region, many residents gradually returned home.
Arroyo said Katrina helped him grown into a more socially conscious individual and hopes the storms devastating repercussions enlighten higher authoritative powers – both inside and outside New Orleans – about the importance of always being prepared to effectively respond under times of pressure, danger and necessity.
"Hurricane Katrina left a powerful message behind," Arroyo said. "Results, will almost always, play out depending on our preventive capabilities to approach certain situations,"