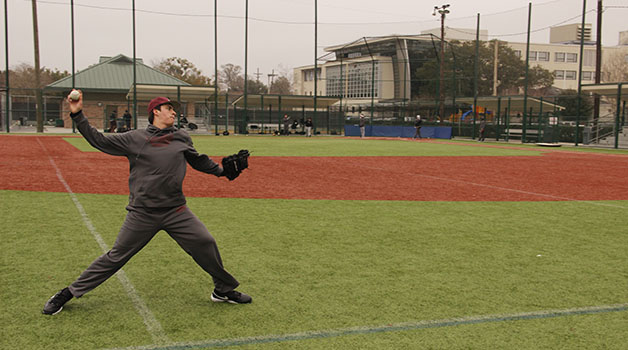 Austin Hummel
This year the Loyola baseball team is looking to build off of last season's success.
The team has their eyes set on being a dominant force in this year's Southern States Athletic Conference.
"We have most of the team back from last year, so a lot of us know how bitter it was to end the season short of where we believed we should have been. This year I believe that we should make the tournament and have a good run," said Carlos LoSauro, English writing and teacher's certification senior.
Players on the team appear to be very confident in the coaching skills of head coach Doug Faust as well as the direction he is leading the program in.
Jordan Wilson, business management freshman, said that Faust is a great teacher if players are willing to learn.
"What I like most about playing for him is he will push you until he gets everything out of you. Along with making you a better player, he wants to win, which is another trait that makes it easier to play for him," Wilson said.
The coaching staff has marveled on the diversity of players they will have to work with and the continuity this year's team appears to be building.
"I really like the make-up of this team. We have a strong group of returning players as well as 13 new players. This team seems to truly enjoy being around one another," Faust said.
Wilson also said that there has been a level of camaraderie that has built up in this year's team during their pre-season workouts.
"What I really like about this team is we are like a family. The older guys don't just feel like your teammates, they feel like older brothers," Wilson said.
However, even with their expectations for the season, they are well aware that they cannot look too far ahead and must stay focused on the task at hand each game.
"Our first expectation is winning the first game of the season," Wilson said.
The baseball team will begin what they hope to be a strong season on Jan. 30 when they play against Ecclesia College.