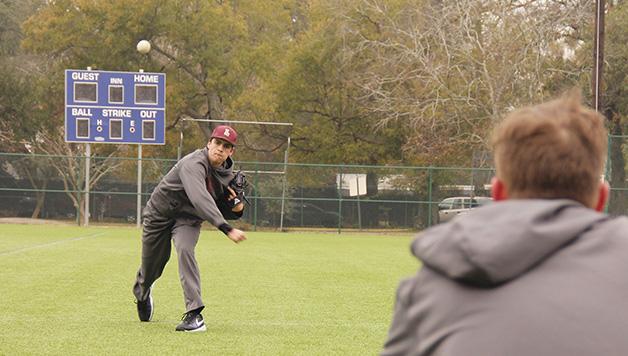 Austin Hummel
Following a 10-6 start to the season and a 2-4 record in conference, Loyola's baseball team is looking to catch up as they begin the heart of their conference schedule.
As the team continues to set high expectations, the players are looking at their conference schedule as an opportunity to build on what they hope to be a very successful season.
Alexander Lorenzo, business management sophomore, said that last year the team had their first .500 season.
"So it does put a little bit of pressure because we want to continue that success after so many years of mediocrity, but we take the pressure with open arms. We want to be successful as we can and get as high above .500 as possible," Lorenzo said.
Though at times inconsistent during their conference schedule, splitting games with Martin Methodist College 4-14 and 6-1, it hasn't affected their approach to this season.
However, they still believe with their current roster they have the makeup of what can be a highly competitive team.
John Nicholson, finance senior, said he believes they are playing well as a team.
"I think our two losses in Dallas were games that we could have won. By no means were those teams better than us, but I am still proud of the way we played. We are a great team collectively and if we continue to play to the best of our ability, I really think we will do well this season," Nicholson said.
With a rather young roster, the coaching staff has tried to help the team continue focusing on what it will take in order to be successful in the Southern States Athletic Conference.
"We are trying to stress the importance of every detail. We know that once conference begins, we will be facing teams that may be a little more talented than we are. If we can do the little things right, we should have a chance to compete," Head Coach Doug Faust said.
Following a 1-2 record in their last series against William Carey University, the team is hoping to bounce back as they take on Belhaven University on Feb. 27 and 28 at Segnette Field.