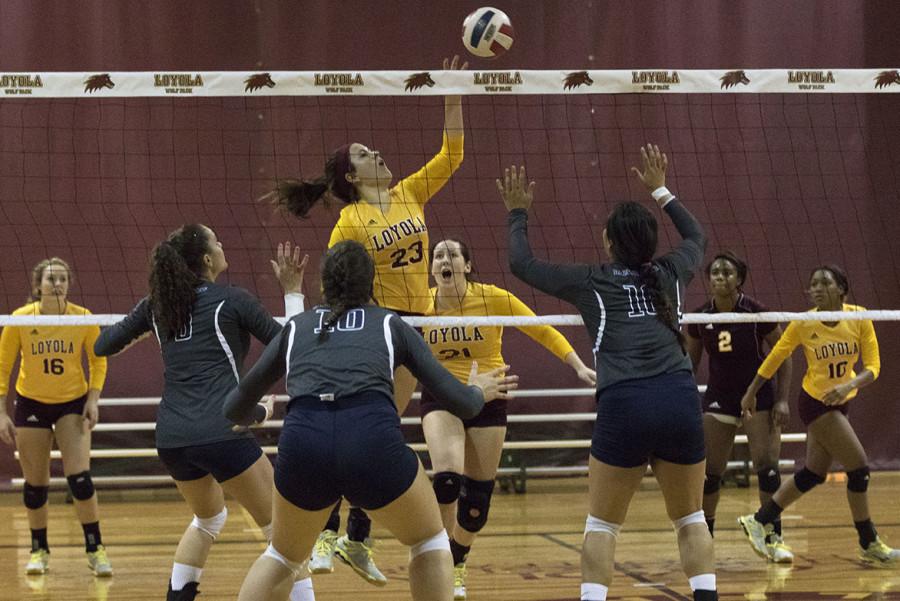 After losing six of their first nine games, the Loyola University volleyball team is looking to get their season headed back in the right direction.
Though they suffered loses in their first two games, the team was able to gain valuable experience which Maddie Huekels, english freshman, said she hopes will propel them into performing well during conference play.
"The Keiser game really stuck with me though. Although we may have lost, I saw the potential we have. We worked together and we fought the whole way. Yes, we could have played better, but we never gave up. That game is something that I hope we can build off of," Huekels said.
With the addition of a nine player recruiting class, Angela Frank, volleyball head coach, viewed these early games as growing pains for the team and something they can build off of.
"We have so many new players we are just getting acclimated and that is the reason we play these early games, to see where we are and what we need to work on before conference play starts," Franke said.
Eve Allen, advertising senior, and Huekels have both said that communication amongst the team during play is something they would like to improve upon as a team and a key factor in them winning.
The team is prepping themselves for conference play, something they view as a measuring mark for how their year will plan out in the post season.
"Our upcoming conference games will highlight our team's strengths and weaknesses, as well as give us a good idea of where we stand in our conference. It's important for us to capitalize on and strive to win every game because that will make our road to the conference tournament much easier if we accomplish that," Allen said.
In spite of their current record, Franke and the Pack are optimistic about the potential that this current team has.
"The team has absolutely taken a step forward from where we were last year to now. I think this is a more cohesive group all around, both on and off the court. I'm looking forward to what this group will accomplish by the end of this season," Franke said.
The Pack will take on the College of Coastal Georgia on Sept. 18 on the road at 7 p.m.