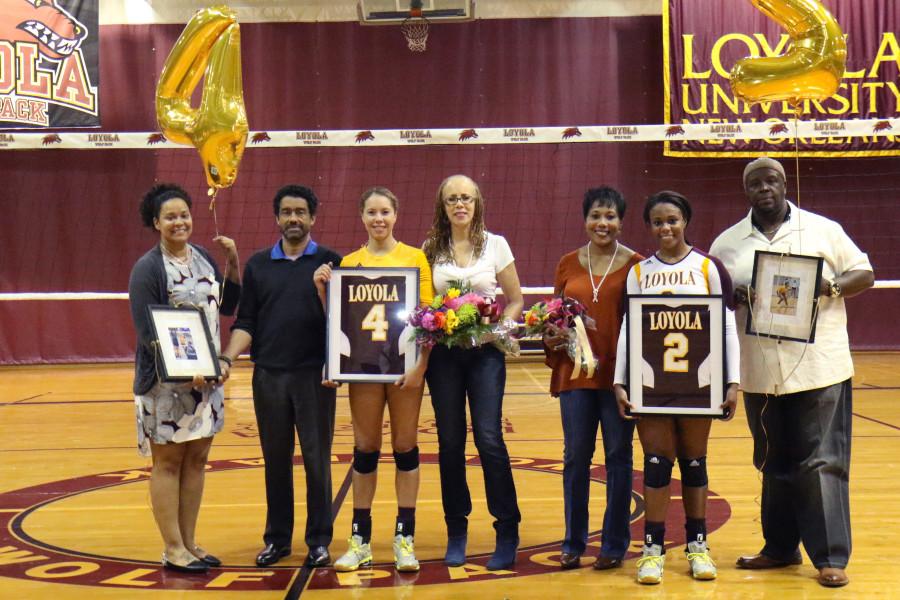 Zach Brien
For every college athlete the time will come for them to write the final chapter of their career. That time has now come for the seniors of the women's volleyball team.
On Thursday Oct. 29 the Loyola University volleyball team played in their final home game for the 2015-16 season.
For Breanna Stevenson, accounting senior, emotions are running high as she reflects on her senior night game.
"A combination of excitement and nervousness. I'm excited for every game but this game is special because it will be my last time stepping into the den with my number 2 jersey on. It stirs up nervousness knowing that my days playing volleyball on a collegiate level are winding down," Stevenson said.
Though it was their senior night game, neither of the seniors on this year's team allowed themselves to get caught up in the moment of it being their last home game. They instead approached the game how they would any other.
With having already topped their win total from last season, advertising senior Eva Allen views the future to be bright for the Wolf Pack.
"Coach Angela Franke has turned the program around. I know I've said this all season but while we have a lot of young players we have a lot of talent on our team so I know they will continue to build after I leave," Allen said.
Though the team will have the majority of their players returning next season Coach Angela Franke emphasized the impact this senior class will leave on the program.
"Both Eva and Bre have been leaders on and off of the court. They've led by example in the classroom and on the court. I am so thankful I was given the opportunity to work with both of these young ladies these two seasons and they are going to be extremely missed next year," Franke said.
This senior class has their eyes set on making headway in their respective career fields once they have completed their undergraduate studies in June.
"Following graduation I hope to find a job in the field of advertising, and I will hopefully be attending grad school for a masters in public health. I have not decided what city I'll be in," said Allen.
Stevenson plans to kick off her career after taking the Certified Public Accountants exam following her tenure with the Pack.
Hopefully the Wolf Pack can send this year's senior class off on a strong note once they begin playing in the South States Athletic Conference tournament on Nov. 11.