Loyola strikes a major chord with music therapy program
Loyola's College of Music and Fine Arts keeps New Orleans' musical legacy alive by creating programs
that offer students the opportunity to pursue a wide variety of practices within the industry.
Not only are the music industry degrees nationally recognized, but the college is also home to one of the nation's first music therapy programs. Founded in 1957, the program's blueprint is made to promote wellness, alleviate pain, manage stress and more.
According to Joy Allen, assistant professor and coordinator of music therapy, the program's core, which includes a combination of psychology and music, is designed to bridge the connection between the two professions.
"As a music therapy major, our students are taking coursework in music, which would include basic
theory, music history and their applied instruments," Allen said. "They are also taking the psychologies,so they are going to have intro to psychology, abnormal, developmental, research and clinical psychology as well."
Allen, whose work in the field has led to several awards including the Music Therapy Research Award and Outstanding Contribution to the Field of Music Therapy from Temple University, said all students have to be on-sight in the clinic every year to complete a coursework of about 35 to 50 hours.
"This past semester the program did over 1,000 hours of community engagement," Allen said.
Madelynn Webb, music therapy senior, said that music as a treatment to relieve or heal a disorder is something that has been ingrained in her ever since she began pursing her major.
"A child with cerebral palsy can vocalize to chords on a guitar, or a cancer patient can write a song to share their life experiences with others," Webb said. "Music on its own is a powerful medium of communication and giving it a therapeutic purpose allows therapists to help their clients speak out in one of the most universal languages."
According to a recent clinical review published by a scientific journal named Cell Press, the neurochemistry of music shows that playing and listening to music holds clear benefits for both mental and physical health. The analysis led by Daniel J. Levitin, PhD and Mona Lisa Chanda, PhD, said that listening to and playing music improves the body's immune system effectiveness and reduces stress.
Nicole Goldin, who works as a board certified neurologic music therapist, said music serves as an allied health profession in which music is utilized as the primary means to achieve non-musical goals.
She added that a therapist's job can range from using music as a tool for systematic desensitization in patients suffering from trauma-related mental health disorders to reducing pain during chemotherapy, or even playing a rhythm and beats for stroke patients to be able to walk again.
"Music, as a stimulus at the neurologic level, is processed simultaneously in most every section of the brain, contributing to the reasoning behind why music is so deeply rooted in most individuals," Goldin said. "It is ideal to use it as a tool in creating alternate pathways to heal and re-route ones that are currently lacking or deficient."
Goldin, who earned her music therapy master's at Loyola in 2013, said this field is effective when dealing with substance abuse, depression, speech and language training, cognitive impairments and motor rehabilitation because it's heavily processed in the midbrain, which is known to be the most primitive animal-like area of the brain in charge of sensory integration.
"It is for this reason that music therapists can work with most every population that has a need or a goal to achieve, making this such a flexible career path –rewarding to both the Music Therapist and those who benefit from it," Goldin said. "Music Therapy can be prescribed to individuals of all ages, all socio-economic backgrounds, and of all diagnoses or situational needs."
About the Writer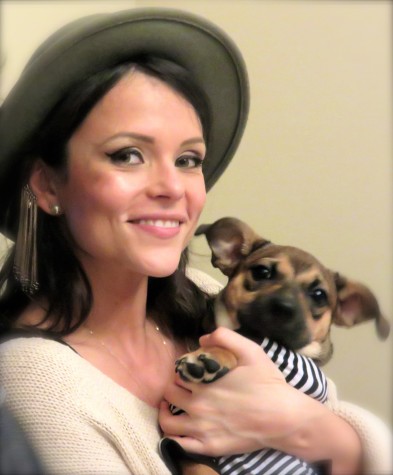 Rebeca Trejo, Life and Times Editor
After leaving her ad career behind to tell the people's stories, Rebeca Trejo is back at school as a mass communication major, with a focus in journalism...