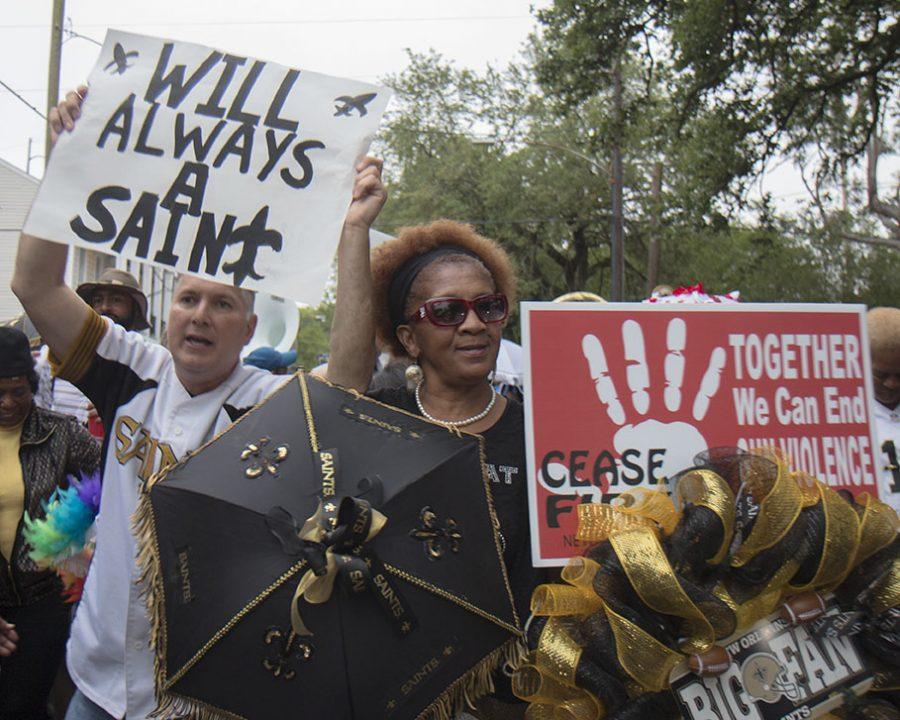 Zach Brien
Hundreds of people gathered at the Half Moon Bar in the Lower Garden District and paraded to the Ooh Pooh Pa Dooh Bar in the Treme in honor of former New Orleans Saints' defensive end Will Smith, who was shot and killed in an altercation after a traffic accident on April 9.
Local musician James Andrews led the second line parade. The event was also an opportunity to call attention to gun violence throughout the city.
As Andrews and his band paraded down the street, the crowd shouted to the beat of the music, "Rest in peace, Will Smith!"
Martha Alguera was one of the organizers of the event along with Andrews. She felt it was necessary for the New Orleans community.
"The community needs this. There's been so much crime and gun violence. With a name like Will Smith and the Saints behind it, I felt like it was the best thing to do, really," Alguera said.
Sharon Parker, New Orleans native, attended the second line. Parker and her family experienced gun violence, so she knows what Smith's family is going through.
"I lost my only brother at the tender age of 21. If he was living, he'd be 45. This never goes away. The hurt, the feeling, the senselessness, it really hurts. I know what this family is going through right now," Parker said.
Fans brought Ohio State and New Orleans Saints memorabilia to the Will Smith memorial on Sophie B. Wright and Felicity. Carla Clark, of Kenner, paid a visit to
"I was shocked. I couldn't believe it. It's crazy," Clark said "I tied up some little balloons, some black and gold balloons. 'You're number one,'" Clark said.
Cardell Hayes, 28, was arrested in the killing of Smith. The case is currently under investigation by New Orleans Police Department. Smith's death was the 31st gun death in New Orleans in 2016.