Delta Jamma raises money for the blind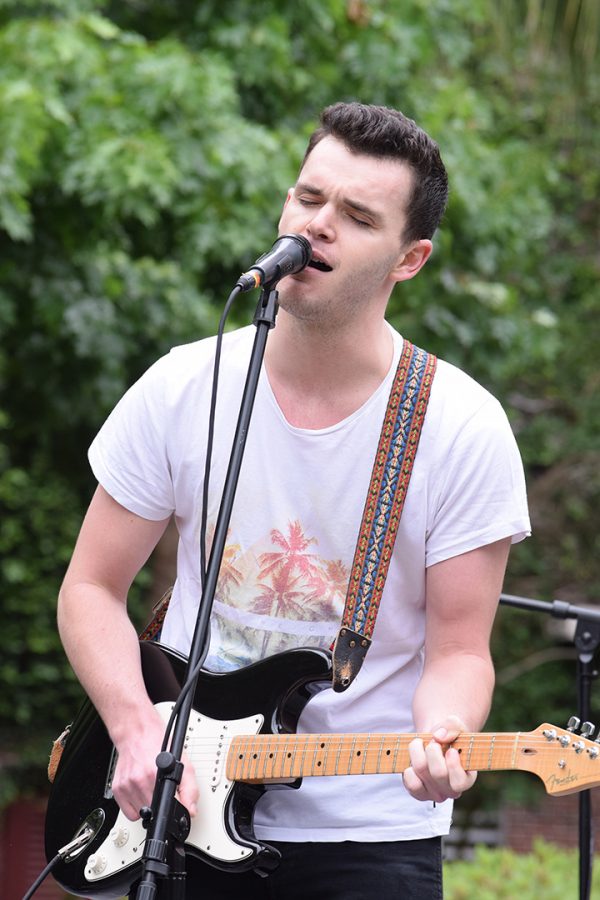 For James Quick, performing in the Peace Quad last Saturday was a cloudy day full of firsts.
"I've never played outside before," Quick said. "So it was that kind of new experience."
It was also the first time that Quick, music industry business sophomore, and his band played together to help those in need.
Quick's group was one of the six Loyola student bands to perform on Saturday afternoon as part of the Delta Gamma sorority's first-ever "Delta Jamma" event, a student-run concert that raised nearly $1,500 to benefit the blind and visually impaired.
Despite clouds and the occasional drizzle, the event pulled students and fans outside of the Danna Center to eat, talk and watch performances from artists like Kayla Mims, Ayotemi and Irie, Elysian Feel, Abby Diamond and Froyo-ma.
It was a day that Georgia Smith, vice president of foundation of Delta Gamma, envisioned at the start of the semester to reach a larger audience for her sorority's annual fundraising event.
"I wanted to get the school involved in a philanthropic event," Smith said. "I knew that if we incorporated more Loyola bands it would get the music industry really excited, and that's a huge aspect of
our school."
As vice president of foundation, Smith is responsible for organizing and planning service events for her sorority, like Delta Jamma, to raise funds for the foundation Service
for Sight.
Smith, management sophomore, said Service for Sight is Delta Gamma's foundation that helps the visually impaired through service and fundraisers to support schools for the blind, medical procedures, living aides and more.
"You think you can just live with blindness. But it's something that if you don't have the proper assistance or treatment, then you're not living," Smith said. "It needs support and attention."
For Kayla Mims, marketing sophomore, who opened up the mini-festival with an R&B set, performing to benefit Service for Sight was a great way to gain experience and get involved.
"Honestly I think this is one of the best fundraisers because, especially at Loyola, everyone loves music and getting involved," Mims said. "It's a really, really great idea."
As the artists took their turns performing, members of the Pi Kappa Pi and Phi Kappa Psi fraternities grilled hot dogs for the growing crowd, and members of Delta Gamma sold T-shirts, Henna tattoos and other gear.
Alistair Bones, drummer for Ayotemi and Irie and jazz studies junior, said he was happy to use music as a means to help others.
"It's perfect, you know. It's a nice feeling helping people who don't have the same abilities that you do," Bones said. "It's nice that we can all enjoy music together, especially."
NOLA Sound, Loyola's live concert production company, provided the sound for each performance.
Kara Peneguy, popular and commercial music freshman and chief operations officer for the company, was in charge of the student-run operation at Delta Jamma.
"Hopefully, with the money earned, Delta Gamma can provide aid to service men and women who have suffered vision impairment, and make a positive impact on their lives," Peneguy said.
Before Froyo-ma performed the final set, Smith announced to the crowd that Delta Jamma raised just under $1,500 for Service for Sight. For Smith, performers like Quick, and everyone else involved, this total represented a successful event.
"It feels really good. Usually the music is just for people to listen, but for it to go to a good cause is even better," Quick said.