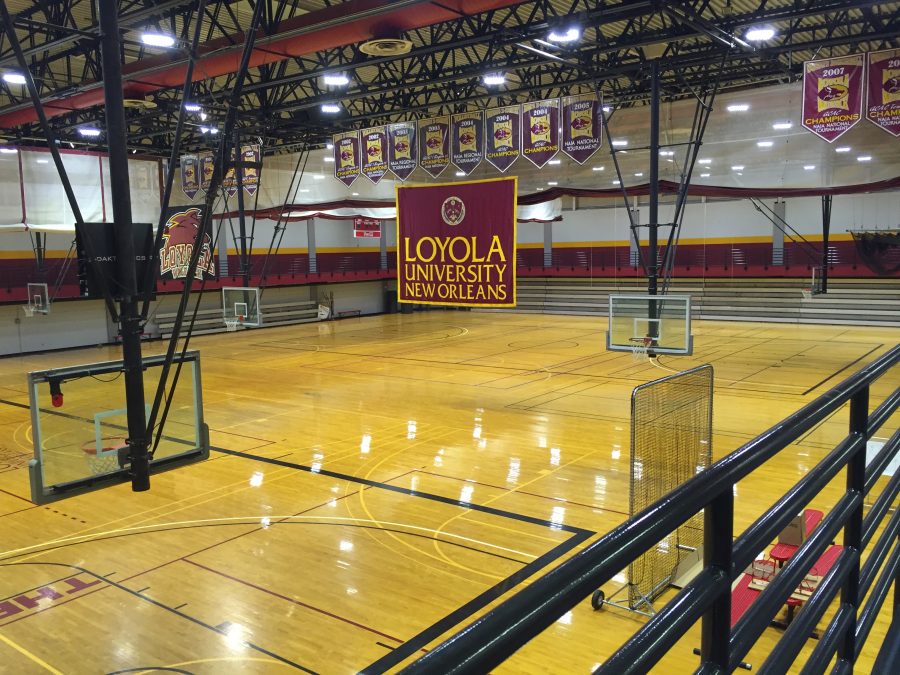 Ryan Micklin
Thanks to First NBC Bank and its donation of $1.5 million, Loyola's Sports Complex will be getting a makeover.
The facility is undergoing multiple improvements including new flooring, lighting, bleachers, painting and new furniture for the sports complex offices. Although the new floor and bleachers won't be installed until summer of 2017, the changes so far have made a significant difference.
Many of the Wolfpack athletic teams such as volleyball, men's and women's basketball, swimming and competitive cheer and dance will be using the sports complex in the future. The complex's new flooring and lighting will create a better setting for practices, games and other university events.
First NBC Bank President and CEO, Ashton Ryan Jr., stated his appreciation for the dedicated work that Loyola's student athletes put forth in both their academics and their athletics.
"Student-athletes at Loyola University New Orleans work tirelessly and we are proud to recognize their successes and contribution to our community. Our entire banking team applauds the efforts these young people put forth in the classroom and on the courts," Ryan said.
Loyola Director of Athletics Brett Simpson said that they wanted to incorporate Loyola's school colors throughout the building. Previously, there were recreational styled figures along the walls on the gym floor, which did not match the school's color scheme.
However, the colors accompanying the gym now include maroon, gold, black and grey, which can be seen immediately upon entrance to what was previously called The Den.
The new name of the court will be the First NBC Court which will include the First NBC logo on the court, scoreboard and scorers' tables.
Simpson also said that the renovations would transform the game day experience by transforming the University Sports Complex into a facility that greatly benefits the entire Loyola community and enrich student life.
Psychology/pre-med sophomore and Loyola basketball player Megan Worry expressed her enthusiasm for the improvements.
"It was a great surprise to come back to. I was expecting some changes, but it looks like a completely new gym. I love it," Worry said.
Not only will athletes enjoy the renovations, but students, faculty and Loyola Sports Complex members will be able to use the newly renovated facility as well.