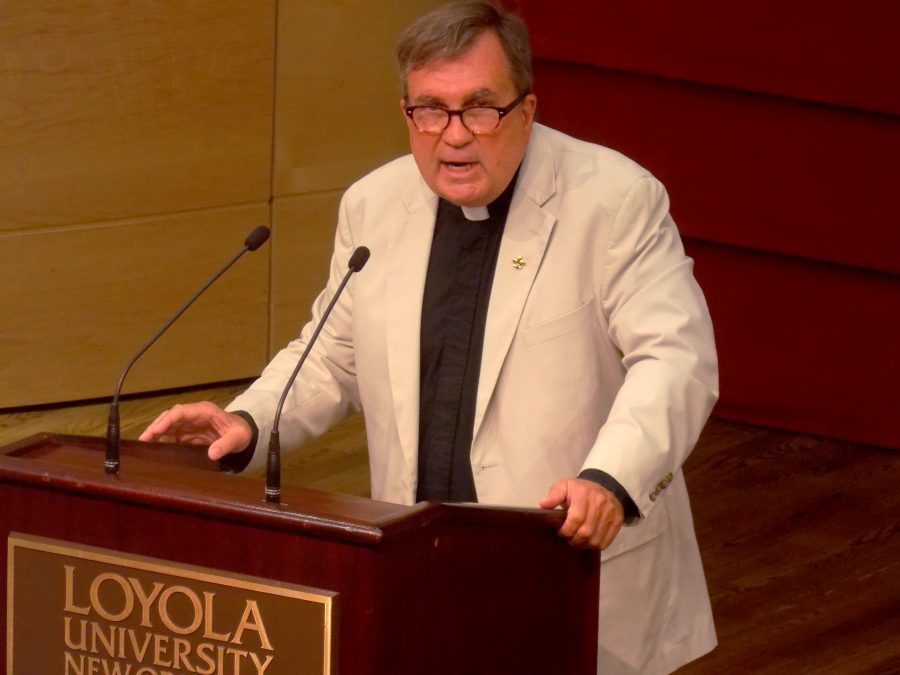 The following is a transcript of the Rev. Kevin Wildes, S.J., university president's address to faculty and staff at the faculty convocation Aug. 15, 2016. An abridged version of this text was published in the August 26 edition of The Maroon.
Watching the news the past few months, with the continuing coverage of our national election, we are reminded once again of how important colleges and universities are to our national life. These institutions are places where civil debate about important issues can and does take place. In these instances, colleges and universities like Loyola are examples for the "real world" to emulate. These institutions can help the nation understand the importance of serious debate and disagreement in a safe, open environment. Indeed, the conversations we have had in this past year, sparked by the Black Lives Matter movement and concerns about our endowment investment policy, are two excellent examples from which the nation can learn about discourse on challenging topics. Michael Waltzer titled one of his famous books "The Company of Critics," and I have often thought that title is fitting for academic institutions. We listen. We question. We suggest. We argue. It is in our DNA.
Aside from being places of debate and discussion, colleges and universities can vary greatly in their missions and the education they offer. Fifty years ago, one would not ask about a university's mission or type of education because of the homogeneity of the offerings. But today, that is not the case. Just as we celebrate pluralism and diversity in the United States generally, so too our colleges and universities are diverse in their educational missions. So it is crucial for any institution to know what it is and why it is.
Who are we? What kind of university is Loyola? Our vision for Loyola University New Orleans must always strive to be a dynamic and vibrant academic environment that provides a best-in-class, immersive education based on Jesuit values and that fosters enriching, hands-on experiences that develop intellectual curiosity, creativity and entrepreneurship.
Our Jesuit mission calls for us to ensure that students who might not otherwise have the financial means are able to attend our university and have access to a Loyola education. This service is more than simply a way to show we are men and women for others. Through scholarships and other assistance, we help to ensure development of our community and our world, and we ensure that everyone at Loyola benefits greatly from a culture that is richly diverse, civil and inclusive.
We are committed to support and encourage our faculty, whose abilities and achievements are examples for our students of what they might do and achieve. We do this by enabling our faculty to create innovative programs designed to stretch the imaginations of our students, whom we serve, while encouraging faculty to challenge one another to discover new ways to raise the standard of excellence at Loyola. We strive to offer state-of-the-art programs with professors who advise and mentor so that we can equip our students with the tools they need to achieve their goals and attain success.
This vision is about changing lives and extending the impact of a Loyola education far beyond St. Charles Avenue. It's about the continued renewal of the Jesuit tradition of education. It's about creating an enterprising campus linked to New Orleans and the world. It's about producing graduates who are transformed and ready for life. Most important, it's the vision that is lived out every day through the dedication of our entire community.
At Loyola we work to create a vibrant, thriving community that strives to be a home where everyone feels respected. We strive to be people for others and to create an environment where everyone is inspired and feels included and where everyone thrives.
All of us here in this room today play an important role in the community, in one another's lives, and in the lives of our students. Through your passion, through your kindness, through your commitment, you show our students each and every day what it means to be leaders of conscience. You show them what it means to truly succeed.
Make no mistake: We have faced difficult times in recent years, and at times we have had our differences. But I am very happy to share with you today that undergraduate enrollment is strong, with one of our strongest classes ever of first-year students. This year's incoming first-year class has shown a significant increase in test scores, with the average SAT having risen 19 points (to 1166) and the average ACT having risen a full point (from 25 to 26). And the College of Law has seen an unexpected and very welcome increase of nearly 25 percent in its enrollment of first-year law students.
How have these things happened? They have happened because of the good will and work of our faculty and staff. I could not be more proud to stand among you today and say thank you, all of you, for the incredible work you are doing.
Last year the Princeton Review cited Loyola positively for its diversity and inclusiveness. This is a distinction that reflects the nature of our campus culture. But we have more to do. But, we have more to do. This is the spirit of the "magis." We can always improve. Through the leadership of our interim chief diversity officer, Liv Newman, we work intentionally to integrate diversity into the fabric of who we are.
The U.S. Department of State and the Chronicle of Higher Education named Loyola New Orleans a top U.S. Fulbright producer. We are grateful for the hard work of professor Laura Murphy, who believed in our students' greatest gifts and showed them how incredibly capable they are as she spurred them on to success. Through his undergraduate research with biology professor Aimee Thomas, Michael Pashkevich, a Loyola junior, won a national Goldwater Scholarship, one of the highest awards given to science and mathematics students.
Four students received prestigious Benjamin A. Gilman Scholarships from the U.S. Department of State Bureau of Educational and Cultural Affairs. These prominent scholarships will allow them to study and work abroad.
Loyola's First in the Pack program, designed to help first-generation students succeed, was recognized by the U.S. deputy secretary of education.
And our School of Mass Communication enjoyed a record-breaking year, topped by a national Pacemaker Award, considered the Pulitzer Prize in student journalism.
Among our faculty and staff, Vice President of Student Affairs Dr. M.L. "Cissy" Petty received national recognition from the Association of Jesuit Colleges and Universities for her leadership in student affairs.
Loyola law professor Bill Quigley and colleagues recently won Public Justice's 2016 Trial Lawyer of the Year Award. Loyola scientists participated in the Louisiana Bioresearch Summit, opening the doors for an exciting future in scientific research conducted in new laboratories here in Monroe Hall.
Professor Naomi Yavneh Klos has achieved great success, expanding our honors program, more than doubling its size and increasing its caliber. Now, honors directors from around the country are seeking her guidance and leadership as she serves as president of the National Collegiate Honors Council.
The English Department continues publishing at a prolific rate while launching students into graduate schools from Loyola Chicago to Columbia University.
Across the university, professors are incorporating experiential learning and concern for the community into their work in the classroom. Consider the criminology students who each year help create a magical Christmas for abused children. Or consider our design students who transformed a Ninth Ward grocery. LUCAP has celebrated its 40th year of volunteerism and social justice work performed by students in the community. The Ignacio Volunteers program took its first trip to South Africa. And our campus ministry is stronger than ever, providing creative new ways to engage students in prayer and faith.
We are, intentionally, working to market Loyola to potential students and families to celebrate the education we offer and encourage prospective students to "create something meaningful" and "prepare for careers that don't even exist yet."
And the Faith in the Future campaign has achieved record levels of giving. The $100 million campaign has just surpassed the critical 60 percent mark and is headed toward the home stretch with vigor. Our work on this campaign has resulted in the highest four-year run of gift income that Loyola has ever seen.
These are just a few examples of the wonderful things happening today at Loyola, successes that keep us smiling and inspired as we go about our work educating students. But they are hardly the only achievements at Loyola.
Just as important to me and to our campus are the day-to-day wins that happen in the classroom, as a struggling student finally "gets it" or figures out how to solve a problem, asks a question, raises a new perspective, or learns to master a new instrument. Or when a student organization develops a solution to a serious issue facing the community.
Those wins are sometimes the most inspiring. They bring us together. They demand humility and patience and thought. They help our students to grow. They remind us why we work here.
Last year we experienced four tragic losses on our campus, losses that brought pain and sorrow we will never forget. Of course, we have done a careful review of all of our procedures and policies to make sure we are doing everything we should be doing for our students. In those tragedies we were reminded that we are a community. We care about one another. Together we are working to "Lift Up Loyola" by encouraging us all to look out for one another and to seek out the resources to help with mental health and substance abuse issues.
Beyond our achievements and our successes in the classroom, we are all here to help one another grow and, when needed, to heal at the broken places. We are here to enjoy and explore all the world has to offer us – the sad times; the good times; moments of peace, love and joy.
Time spent at a university – especially a university like Loyola – is meant to be a time of discovery that leads to action. It's a time to consider your strengths and talents and develop them to the best of their abilities. It's a time to create the life and world you envision, for your own benefit and for others. It's a time of wonder, imagination, challenge and adventure.
Some time ago, in one of my convocation talks, I spoke about the Jesuit use of the term magis. I pointed out that for St. Ignatius the term magis captured what today we would call "continual self-improvement." The assumption in Ignatius' use of the 'magis' is that one can always do better, get better and improve. As a Jesuit university we should always ask ourselves how can we improve, do better and serve better.
We've got an exciting year ahead of us — and days filled with promise. Let's work together this year to make the new and unimaginable happen.