Def Jam artist Earl St. Clair seeks to spark positivity
Listeners feeling emotion, particularly positive ones, are at the core of Def Jam artist Earl St. Clair's musical intent. He wants to put a smile on audiences' faces by presenting his life story through his music.
The singer and songwriter has been a producer for 10 years, and he's accumulated credits writing for artists like Rick Ross and Machine Gun Kelly. His television debut came through a performance with fellow Def Jam artist Bibi Bourelly when they performed "Perfect" on "The Late Show With Stephen Colbert" this June.
The deep voiced St. Clair calls Alabama and Cleveland, Ohio, home, and his sound harkens back to old soul greats like Al Green and Sam Cooke. St. Clair's lyrics are composed of compact reflection, as he says his creativity comes from being in touch with his own personal story.
"Nowadays, a lot of people don't know who they are in order to tell their life story in their music," Earl St. Clair told The Maroon in a phone interview.
When asked what new artists he had been listening to lately, St. Clair could not name any. He explained that his lifestyle doesn't consist of frequent going out or indulgence, so he favors the content of life experiences that older artists spoke of in their music, compared to the life stories he hears in recent times.
"It's hard for me to relate," St. Clair said.
St. Clair explained that his upbeat sound is born from a desire to both feel happy when he creates music and to make his listeners feel that joy, too. St. Clair admitted that he considers himself a joyous person, and he said that happiness is his music's end goal, even if the subject matter is not the brightest.
"I wouldn't say it's an escape, but I want it to change my mood," St. Clair said. "Music is such a powerful tool. It can dictate how people feel."
Listeners can check out St. Clair's "Man on Fire" single on VEVO and watch the video here, which was released Sept. 28. St. Clair's debut album "Songs About a Girl I Used to Know" will be released on a yet to be determined date.
About the Writer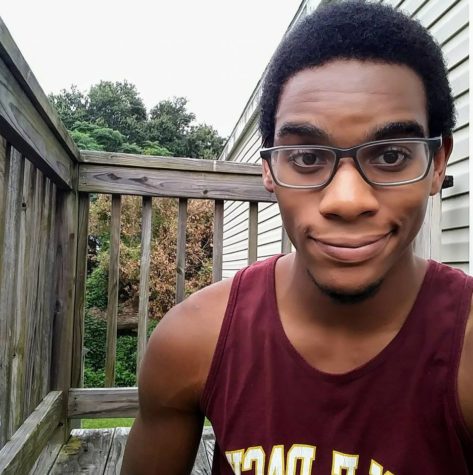 Jamal Melancon, Senior Staff Writer
Jamal is a mass communication senior with a focus in journalism. Before serving on The Maroon as the Senior Staff Writer, Jamal worked as the Worldview...