Campus sororities welcome over 100 women on 'bid day'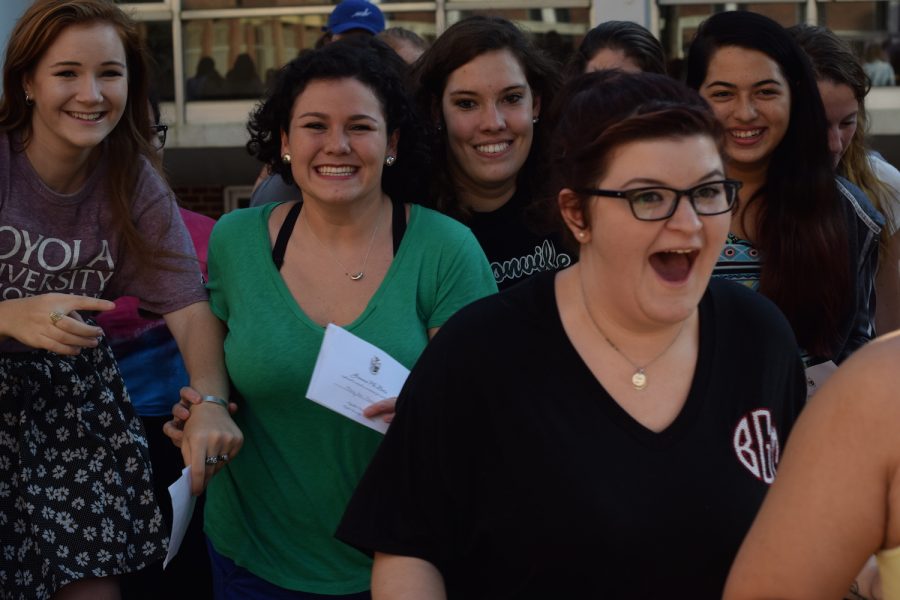 Loyola's four National Panhellenic Conference sororities welcomed a total of 102 women to their chapters during formal recruitment "Bid Day" Monday.
After a weekend long recruitment, which lasted Friday evening through Sunday night, 102 women accepted bids from Alpha Chi Omega, Delta Gamma, Gamma Phi Beta and Theta Phi Alpha Sept. 12.
Ellie Diaz, vice president of recruitment, said recruitment at Loyola is unique compared to most other universities.
"It's not that two week long, 16 different sororities you have to go through just to meet them for a short amount of time," Diaz said. "We are focusing on the relationships that we make throughout recruitment and not just whose room had the most flowers. We really want the girls to know that we have an authentic sisterhood in each of
our chapters."
Authenticity was exactly what Marilyn Johnson, a new member of Theta Phi Alpha, said she was looking for when researching about Loyola Greek life.
"I grew up in a state school city in Kentucky, and my initial perception of Greek life could not have been more negative," Johnson said. "I came to Loyola my freshman year with a judgmental attitude toward anything affiliated with sororities, but Loyola completely changed that for me. I was so impressed with the amount of love and support that the sorority communities give each other and wanted to be a part of something bigger than myself."
Diaz said she doesn't want women to allow stereotypes to dissuade them from joining a sorority. She said just because stereotypes exist doesn't mean students shouldn't give Greek life, especially Greek life at Loyola, a chance.
"My favorite thing is when someone says 'Wow, you don't look like a sorority girl,' and my favorite response is 'Well, what is a sorority girl?'" Diaz said. "Everybody has their different qualities and characteristics."
While students will have to wait until next semester to go through recruitment for a National Panhellenic Conference sorority, there is still time for those interested in joining one of the three National Pan-Hellenic Council sororities on campus. NPHC sororities include Alpha Kappa Alpha Sorority, Inc.; Delta Sigma Theta Sorority, Inc.; and Zeta Phi Beta Sorority, Inc. The information session, "Meet the Greeks," will occur Sept. 22 in the Audubon Room.
Elyse Harrison, Alpha Kappa Alpha Sorority, Inc. president, said those interested should begin researching which sorority might suit  them best.
"You would be surprised how much you find on the internet," Harrison said. "A lot of time people ask questions that could have been Googled, which just shows me that you haven't been doing your research and you are not taking it seriously."
"It also helps to attend programs hosted by that sorority, so you can get a feel of not the sorority as a whole, but how that sorority is on campus, because every chapter has their own unique identity," she added.
Harrison and Diaz both agreed sorority life can be fun, but said it is more than stereotypes might suggest, with goals such as bettering campus and local communities and the women within the organizations.
"I think a lot of people expect Greek life to be just fun, like hanging out and going to parties and wearing letters," Harrison said. "But Greek life is a lot of work and that goes for any sorority or fraternity. We have service events and programs, things we have to do from a business aspect, so when people expect that Greek life is one big party they need to realize that it's just not true."
About the Contributor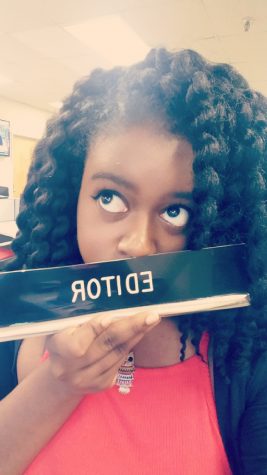 Starlight Williams, Editor-in-chief
Starlight is mass communication senior with a focus in journalism and a minor in legal studies. After serving as Assistant Life and Times Editor, Life...