Commuters 'Pokemon Go' out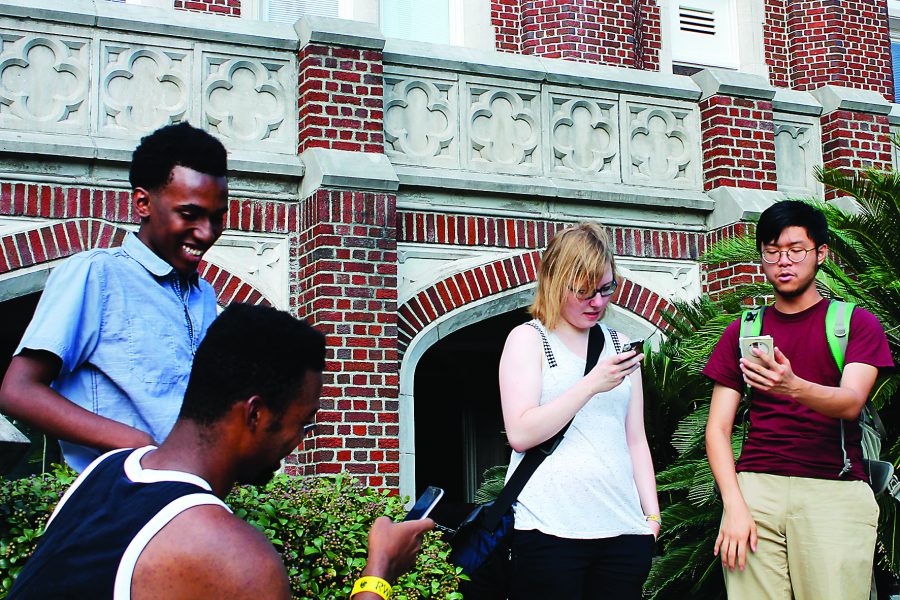 Davis Walden
October 10, 2016
Even with Pokemon Go's decline in users since late July, on Sept. 9, students went out to a Pokemon Go excursion held by the Commuter Student Association to catch the variety of Pokemon that Audubon Park had to offer.
"The excursion went well for CSA," Malik Thompson, English sophomore, said, "We had a decent number of people that went on it. People were friendly and talkative throughout so I hope some friendships were formed."
Pokemon Go, a game created by Niantic, has rapidly grown since its launch July 6 this year. With over a million locations to stop and visit, Pokemon Go popularizes local landmarks, transforming them into pokestops, locations where players called trainers can collect supplies, and gyms, where trainers can battle.
"The game brings people together in an effort to catch them all," Thompson said, "we actually found someone who was already playing the game at the park and they decided to tag along with us. It's a very social game since it gets the player to go out and travel."
The game's premise is to explore locations in order to find and catch Pokemon. Though the non-mobile Pokemon games include over 700 Pokemon, Pokemon Go only has the first 151 Pokemon.
Brianna McMorris, criminal justice junior and president of the Commuter Student Association, and Liz Johnston, psychology senior and social media and event planning chair, organized the event.
"In addition to hunting for some Pokemon, we were able to take in the sites that Audubon Park had to offer," McMorris, whose favorite Pokemon is Jigglypuff, said. "For example, the ducks, and not just the Psyducks we were looking for."
"All in all, the event was great and if the game regains its popularity, I would hope to do it again sometime."
The Niantic app continues to add features to improve gameplay such as the upcoming "buddy system" that would allow trainers to "walk" with their Pokemon.
"I think that the game is interesting," Liz Johnston said, "Pokemon games were always like this sit-down and shut up kind of thing. Now it's like this go outside and communicate with people. Squirtle was always my favorite Pokemon because he's adorable, and I had a turtle growing up."
The Pokemon Go excursion is only one of the association's events. The Commuter Students Association also held Commuter Appreciation Week, an event exclusive to commuters from Sept. 26 to Sept. 30. Approximately 64 percent of students live off campus.