GoodWood goes beyond design, helps Loyola students do the same
Two years ago, Michael Dalle Molle and Jordan Gurren, the founders and owners of the design and fabrication company GoodWood NOLA, were desperately trying to find a space to work out of, bringing in less than $1,000 per month and scrambling to get their vision off the ground.
"Basically, for an entire year we had little to no social life," Dalle Molle, 25, said, "We could only think about paying bills and making deadlines on time."
Before that, the two craftsmen, who met in 2013 on a building project for the WWII Museum, were creating their high-end products out of a garage with a few old hand tools and a chop saw.
On the first of this month, after two years of 12-hour workdays, dumpster diving for wood, philanthropic initiatives and dozens of unique design projects for businesses around the city, Dalle Molle and Gurren moved GoodWood into its new home: a 4,200+ square foot studio in Mid-City, nearly four times bigger than their last workspace.
"We've always thought about next steps, but we've never focused on them," Gurren, 26, said. "It's about fighting complacency; we knew taking on a bigger studio would force us to move forward."
The new GoodWood studio allows the team to take on projects like never before. Besides having more space to create pieces for repeat clients like District Donuts, Dirty Coast and the Besh Restaurant Group, Gurren and Dalle Molle can also expand their clientele to new businesses and larger end products.
The owners and the rest of the GoodWood team, comprised of several part-time designers and four full-time craftsmen, view the new studio as a rewarding and exciting expansion. However, it's just one of the big moves Gurren and Dalle Molle have made this fall.
For the first time, the GoodWood visionaries are taking their expertise to the classroom, offering Loyola design students hands-on experience in industrial building and mixed-media design through their course, GoodWood Build.
"We wish that we had somebody to show us what this field was all about back in school," Dalle Molle said. "We're trying to show students that you can design and build things in the real world. Jordan and I aren't that far removed from college; we know what they're going through, we just went through it. We know our students haven't done this before. We hadn't either when we first started, at least not like this."
Throughout this semester, the two craftsmen have focused their instruction not only on laying the foundations of design and fabrication, but also showing their students the impact that designers can have on their communities.
The GoodWood owners first became involved with Loyola last spring, when they partnered with design professor Tippy Tippens' Social Political Design class. With their help, Loyola students created the new signage and branding for the Lower Ninth Ward Market, giving the integral food store a new, more recognizable business identity.
After working under Dalle Molle and Gurren for the market project, Tiffany D'Souza, graphic design senior, felt compelled to take their GoodWood Build course.
"I think the main reason I took a second class with them was how dedicated they are to their work," D'Souza said. "They're so passionate about everything they do."
The Lower Ninth Ward Market is just one of many initiatives that GoodWood has taken to give back. Together with Dirty Coast, one of GoodWood's repeat clients and close friends, the GoodWood team not only raised over $10,000 for Louisiana Flood victims, but help continue to give boots on the ground in Baton Rouge, having fully gutted five flooded homes and offering assistance any way they can.
The design company is also a corporate sponsor of the Junior League of New Orleans, a women's volunteer organization, works with the John Besh Foundation, which provides scholarships for New Orleans students and continually donates items to The Camp Tiger Benefit Auction, an LSU initiative that works with mentally disabled children through summer programs.
"Money is, and always will be, the second thing," Dalle Molle said. "We're more concerned with compelling projects, happy clients and good work. Everyone who can give back to their community absolutely should."
All of this, while almost exclusively using recycled lumber as well as eco-friendly paints and locally sourced materials to create the fabrications they love, has earned them the rank as one of New Orleans' five most sustainable new businesses of 2016 from LifeCity, an environmental business group.
These values of community outreach and consciousness are what Daniela Marx, chair of the Loyola design program, saw beyond the GoodWood owners' design skills, pushing her to invite them to teach the GoodWood Build class.
"People don't know what design is or what it can do. It goes beyond advertising," Marx said. "At Loyola, it's about making the world a better place through design. Michael and Jordan line up with our Jesuit values."
Marx plans to have a permanent class with Gurren and Dalle Molle and hopes for an industrial design program that can extend beyond design students to the entire university.
Outside of Loyola, GoodWood's design work can be seen at the New Orleans Boulder Lounge on Tchoupitoulas Street, where general manager Garret Mortensen recalls working with Dalle Molle and Gurren, who have since become friends outside of business.
"Basically, we brought a pile of junk to them that I created, and I'm not a skilled carpenter whatsoever," Mortensen said. "They cleaned it up, made it pretty and made it considerably more functional in a relatively fast time."
The boulder lounge is one of many local businesses that the design company has created lasting ties with. As the GoodWood guys continue to settle into their new studio, teach their first class together and work with local businesses around the city, they have not forgotten their start.
"We've pushed ourselves, and we pride ourselves on taking projects that we want," Gurren said. "If you had told me two years ago that I would have a studio like this, and we would have done all of the awesome projects we've done, I'd say you're crazy."
About the Writer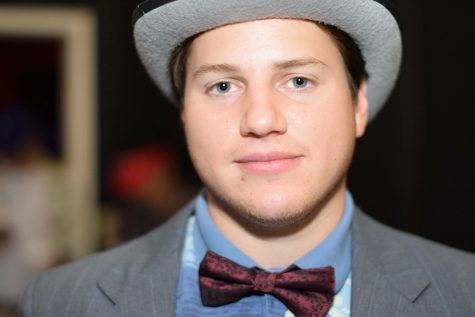 Seán Brennan, Opinion and Editorial Editor
Seán Brennan is a junior at Loyola pursuing his degree in mass communication. Besides acting as the opinion editor for The Maroon, he is also a writing...