Trump elected as president
Hang on for a minute...we're trying to find some more stories you might like.
After one of the most controversial campaigns in United States history, businessman Donald Trump became the 45th president-elect after defeating former Secretary of State Hillary Clinton Tuesday, Nov. 8.
Trump's victory appeared unlikely, up until the evening of Nov. 8, The New York Times gave Democratic nominee Hillary Clinton an 85 percent chance of winning. Trump ended up dominating, winning normally Democratic states such as Michigan, Wisconsin and Pennsylvania.
The election's outcome came as a shock to many, as Clinton had been leading in the polls and even ended up winning the popular vote. This most recently happened in the 2000 election and has only occurred five times in history.
Sean Cain, Loyola associate professor of political science, offered reasoning behind the unexpected outcome.
Cain said that while it is true that Clinton had the popular vote in her favor, her strong performance in places such as New York and Washington, D.C. was counteracted by poor performance in other states, particularly in the south and west.
"She did strongly in areas that Democrats usually do strong in, but was weak in swing states," Cain said. "When she was projected to win, the polls weren't focusing on the states, and that's what really matters."
Clinton's platform included changes to the higher education system, which, if successful, would have established debt-free public universities and tuition-free community colleges. This appeal to college students did not prove enough for Clinton, as college students did not show up in strong enough numbers in favor of her.
Cain also stated that it was easier for Trump to gain supporters than Clinton because he gained more national publicity. Clinton's campaign focused on funding television advertisements to promote herself. This could have backfired because people do not watch as much television as they used to, now that there are paid subscription services such as Netflix. Trump's campaign took a much different approach.
Trump got people talking with his controversial social media platforms, which earned him a lot of national attention, according to Cain. Most of this attention was negative, but the publicity itself could have played a role in earning him supporters. He won public support for far less money than Clinton spent on her advertising efforts.
"The media goes with what's more intriguing," Cain said. "[Trump's] approach denied Clinton the ability to get out her message. Paid TV ads are not as effective as they used
to be."
The election of Trump means something entirely different for the nation and the college-aged generation than the election of Clinton would. Members of the Loyola community have shared their thoughts on what this means for the future of the country.
Anthony Parker, mass communication senior, is one of many students disappointed by Trump's election. He voiced that, as a black man who is about to graduate and enter the real world, he is nervous for what is
to come.
"Who elects a president that supposedly wants to make America great again, but is an embodiment of racism, sexism, bigotry and is a misogynist?" Parker said. "I am afraid for my own life right now."
C.J. Seruntine, psychology and criminal justice junior, is not shaken by the results. He said no matter who was elected, he is excited to see the changes that will come to America.
"You can't do anything about [the outcome]," Seruntine said. "You were stuck with Obama when you didn't want him, you were stuck with Bush and now you're stuck with Trump."
Seruntine added that Trump has a strong background in business, which could highly benefit the U.S. economy over the next couple
of years.
Aitor Solorzano, management junior, said he is thinking of the country's future realistically, maintaining that the election of a seemingly unfavorable candidate might not be as bad as Clinton supporters believe.
"I'm concerned, but I'm also not because every president's term is mostly run by the government. The president can say he's going to go build a wall, but the government won't allow it," Solorzano said.
Donald Trump will officially assume office as the 45th president of the United States on Jan. 20.

About the Writer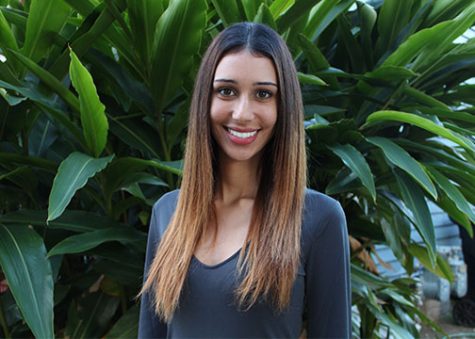 Haley Pegg, Senior Staff Writer
Haley Pegg is finishing up her final few credits at Loyola as a part-time journalism and marketing senior. Spring 2017 will be her second semester serving...