Carpool Karaoke inspires new 'Streetcar Stories'
Hang on for a minute...we're trying to find some more stories you might like.
Loyola's marketing and communications department introduced a new web-series to the Loyola community this semester: Streetcar Stories. The 2-5 minute videos, hosted by mass communication senior Edwin Unzalu, cover topics ranging from Loyola traditions to New Orleans food. In each episode, a new guest, or guests, joins Unzalu on a streetcar to discuss prepared topics, play games and sometimes even jam to some tunes.
"It's a fun project to showcase some of the people we have here at Loyola and some of the personalities," Unzalu said.
Unzalu, who interned for the marketing department last year, said the idea for the series was originally brought up as a joke, inspired by the popular "Carpool Karaoke" videos. However, the marketing department saw an opportunity to marry New Orleans culture and the Loyola community through social media.
"I think it's very important for colleges to now see themselves as an entity that can create content and push it out," Unzalu said. "I think it's important to showcase different aspects of the university and community."
Angelique Dyer, Loyola's digital marketing manager, serves as the executive producer of the web series.
"I took the idea, drew up the storyboard, crafted the concepts, got the talent, did the logistics on the streetcar, got the production team and put everybody together," Dyer said.
All five of the episodes released this semester were filmed over a two day period. Dyer contacted the New Orleans Regional Transit Authority and secured a streetcar and production company for those two days, and the car took the cast and crew where they wanted to go.
"It was an exhausting but very fun filming process," Dyer said.
Unzalu and Dyer collaborated to determine the discussion topics for each episode. As a New Orleans native, a Loyola graduate and the manager of Streetcar Stories, Dyer said she worked hard to showcase the best of both Loyola and New Orleans. Dyer also chose this season's guests. Unzalu said he knew most of them, which allowed for fun and improvisational dialogue.
"Edwin has that energy that really excites people and he is just such a star," Dyer said. "We knew he would be perfect because you can put him in a room with anybody and he can get them to open up and match his comedic timing."
The series was produced by Elektrik Zoo Production Company, a local film and video production company that has been working with Loyola and Dyer for about a year and a half. They also produced the School of Mass Communication's promotional video earlier this year.
Unzalu said although he was initially nervous to have to talk to the camera, working with the crew ended up being his favorite part of the experience.
"The crew was very nice and I learned a lot from them," Unzalu said. "It was such a wonderful learning experience."
Abigail Justice, mass communication junior, was a student participant in the series and described the experience as one of her favorites she has had while at Loyola. For her episode the topic was food, which she said was not challenging to stick to at all.
"Everything Edwin and I said happened in the moment," Justice said. "They may have had us say it again for sound purposes, but we were not scripted. It was just a real conversation between the both of us. Edwin even came up with the game we played right on the spot."
Student and community feedback has been positive according to both Dyer and Unzalu. Many students have approached Unzalu, hoping to be interviewed on the next season.
"I really hope it continues, and I really hope I get to be a part of it in some way," Justice said.
According to Dyer, the school plans to continue the series next semester with Edwin as the host. Discussions have already started for next season's guests and stories.
"It was super fun and a lot of work, and I'm so glad everyone loves it," Dyer added.
The final episode of the semester will be released Nov. 28.

About the Writer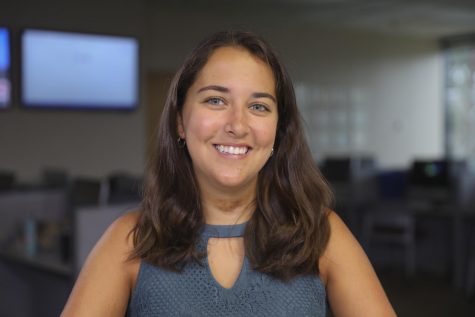 Erin Snodgrass, Editor-in-Chief
Erin Snodgrass, mass communication senior, is excited to be serving as Editor-in-Chief of the Loyola Maroon this semester. She has previously worked as...