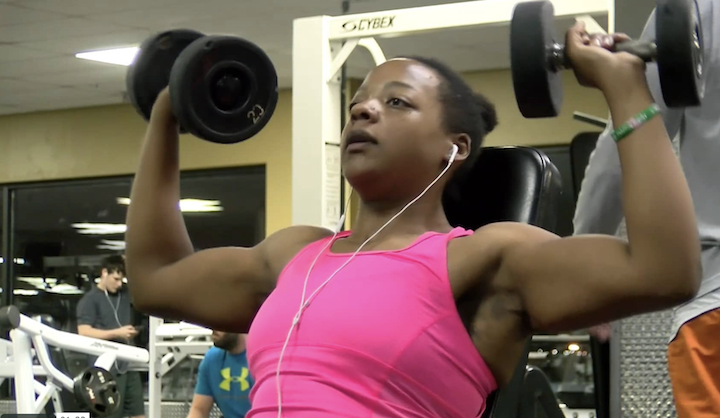 Taylor Ford
Jasmine Barnes, A'14, proved that with dedication and focus, it is possible to create a healthier lifestyle for yourself.
She began her fitness journey in February of 2015.
"You know I wanted to lose weight that's really what it was. I knew that I was overweight and I wanted to just lose it" Barnes said.
Since beginning her fitness journey nearly two years ago, she has lost almost 100 pounds in weight, and yet still has been consistent with her gym regimen by working out at Metairie's French Riviera Fitness at least four times per week.
"I think it's because I'm still…I haven't reached all my goals yet right. Those two, 25 percent body fat loss and then 100 pounds, I'm so close to being down 100 pounds but I'm just a few pounds shy" Barnes said.
Megan Byas, Loyola physical trainer, said an individual's mindsets makes the biggest difference between those who stay committed towards developing a healthier lifestyle and those who give up.
"A lot of times people psychologically have this withhold 'If I don't do it right the first time then I'm never going to do it right' or if I mess up then I'll never get it right'. And it's all about failing and failing until you finally get in place and it's a habit you have to instill. So you have to understand the ups and the downs of trying to get something such as a fitness routine in your routine as a lifestyle change," Byas said.
Barnes story can be looked at as a tremendous inspiration for any who are looking to tackle any fitness goals they have set for themselves. She eluded to the fact that when doing so, individuals must be fully committed towards bringing out the change that they want to see physically.
"Once you are truly ready for it then you'll be fine. If you feel like you have to just…I don't know…if you have to take baby steps into it then you're probably not ready and that's fine you just have to be honest with yourself. When you're really ready to commit to yourself and your own health and wellness I think that's when you'll see some greatness," said Barnes.
Barnes' fitness journey will culminate this upcoming July as she attempts to compete in her first local body building competition in the New Orleans metropolitan area.