Maroon Minute for February 8, 2017
TORNADO DAMAGE
TODAY PEOPLE ARE CLEANING UP AFTER A TORNADO TOUCHED DOWN IN NEW ORLEANS EAST YESTERDAY…. (VO) DESTROYING SEVERAL HOMES AND BUSINESSES. THIS IS VIDEO OF THE TWISTER FROM NASA'S MEE-SHOE FACILITY. THE NATIONAL WEATHER SERVICE SAYS THE TWISTER WAS AT LEAST AN E-F 2 TWISTER… WHICH HAS WINDS BETWEEN 111 AND 135 MILES PER HOUR. MORE THAN 10 THOUSAND PEOPLE WERE LEFT WITHOUT POWER IN THE CITY AFTER THE STORM. MAYOR MITCH LANDRIEU CALLED THE DAMAGE "SUBSTANTIAL". IN ALL.. SEVEN PARISHES REPORTED TORNADOES YESTERDAY. LUCKILY, NOBODY DIED… DESPITE THE DEVASTATION.
TRAVEL BAN
PRESIDENT TRUMP'S EXECUTIVE ORDERS HAVE BEEN CHALLENGED IN COURT. A PANEL OF FEDERAL JUDGES HEARD THE CASE YESTERDAY AND WILL DECIDE ON THE PRESIDENT'S CONSTITUTIONAL AUTHORITY ON TRAVEL ISSUES LATER THIS WEEK. WHATEVER THE DECISION, EITHER SIDE MAY ASK THE SUPREME COURT TO INTERVENE.
BASEBALL TEAM UPDATE
LOYOLA'S BASEBALL TEAM PLAYED LSU ALEXANDRIA YESTERDAY.. THEY FOLLOWED THEIR SEASON-OPENING SWEEP AGAINST RUST COLLEGE WITH TWO LOSSES LAST NIGHT AGAINST THE GENERALS…THIS SETS THEIR SEASON RECORD AT 3 AND 2…THE TEAM'S NEXT GAME IS THIS FRIDAY AGAINST TOUGALOO COLLEGE.
BAYOUR BRIDGE PIPELINE
TODAY, SOME MEMBERS OF THE LOYOLA COMMUNITY WILL ATTEND A PUBLIC HEARING IN NAPOLEONVILLE, LOUISIANA ON THE CONTROVERSIAL BAYOU BRIDGE PIPELINE. THE LOUISIANA DEPARTMENT OF NATURAL RESOURCES IS LISTENING TO RESIDENTS WHO ARE CONCERNED ABOUT THE PROJECT'S ENVIRONMENTAL IMPACT.
About the Writer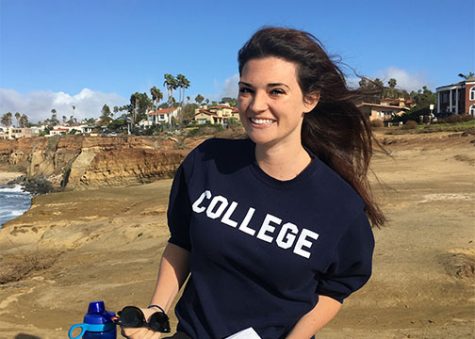 Katelyn Fecteau, Opinion Editor
Katelyn Fecteau is a senior English writing major from San Diego, California. She joined the Maroon in the fall of 2016, and is now the opinion editor....