Maroon Minute for February 14, 2017
ANCHOR INTRO
HELLO…
I'M KATELYN FECTEAU AND THIS IS THE MAROON MINUTE FOR TUESDAY, FEBRUARY 14..
MICHAEL FLYNN RESIGNS
PRESIDENT TRUMP'S NATIONAL SECURITY ADVISOR MICHAEL FLYNN RESIGNED LATE MONDAY NIGHT FOLLOWING SPECULATION ABOUT HIS CONTACT WITH RUSSIA.  FLYNN'S RESIGNATION LETTER CITES GIVING "INCOMPLETE INFORMATION" TO VICE PRESIDENT MIKE PENCE ABOUT PHONE CALLS WITH THE RUSSIAN AMBASSADOR. THE NATIONAL SECURITY ADVISOR IS LEAVING TRUMP'S TEAM AFTER LESS THAN A MONTH IN OFFICE.
OROVILL DAM DAMAGE
PEOPLE ARE EVACUATING IN OROVILLE, CALIFORNIA WHERE A RESERVOIR IS THREATENING TO BREACH A DAM AND FLOOD THE SURROUNDING NEIGHBORHOOD. OFFICIALS HAVE ORDERED THE EVACUATION OF  THE NEARLY 200 THOUSAND PEOPLE  WHO LIVE BELOW THE RESERVOIR. THE OROVILLE DAM IS THE NATION'S TALLEST DAM, AND COULD CAUSE UP TO A 30 FOOT WALL OF WATER IF IT BREAKS.
BASEBALL UPDATE
OVER THE WEEKEND, LOYOLA'S BASEBALL TEAM KNOCKED OUT TWO BIG WINS AGAINST TOUGALOO COLLEGE. THE WOLFPACK BEAT THE BULLDOGS 7 TO 1 IN THE FIRST GAME AND A WHOPPING 20 TO NOTHING IN THE SECOND GAME. THIS PUTS THE PACK'S STANDING AT 7 AND 2 WITH AN UNDEFEATED RECORD AT HOME.
GALENTINES DAY
LOYOLA'S PANHELLENIC ASSOCIATION IS HOLDING A "GALENTINES" DAY EVENT THIS EVENING FOR THE LADIES OF THE FOUR PANHELLENIC ORGANIZATIONS ON CAMPUS.  THE CELEBRATION OF SISTERLY LOVE WILL INCLUDE FOOD AND GAMES, PROVING ONCE AND FOR ALL THAT ALL A WOMAN REALLY NEEDS IS HER SISTERS AND A PLATE OF GOODIES.
ANCHOR TAG
AND THAT'S OUR NEWS FOR NOW… THANKS FOR WATCHING…
BE SURE TO LIKE US ON FACEBOOK AND FOLLOW US ON TWITTER AND INSTAGRAM FORMORE NEWS.
HAPPY VALENTINES DAY!
About the Writer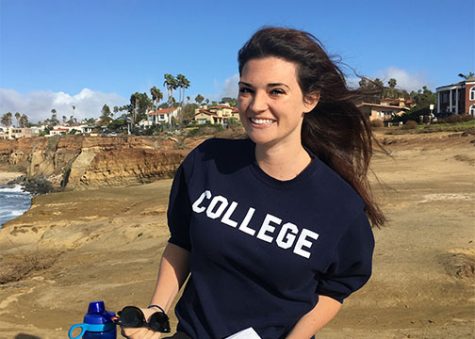 Katelyn Fecteau, Opinion Editor
Katelyn Fecteau is a senior English writing major from San Diego, California. She joined the Maroon in the fall of 2016, and is now the opinion editor....