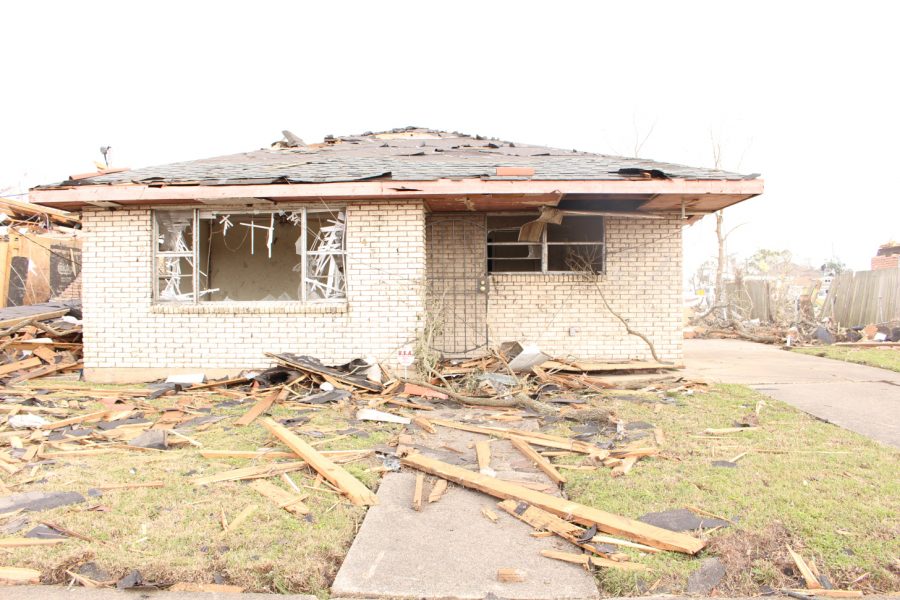 Jeremy Scipio, a senior at Joseph S. Clark High School, was in class when he was called into the hallway with the rest of his classmates. Sitting in the hallway for three periods, Scipio grew anxious when hearing news of a class EF3 tornado sweeping through the New Orleans East.
"I was nervous; I wanted to call my mom. But the teachers wouldn't let me get up, so I had to wait it out," said Scipio.
When he arrived back home and saw the devastation, Scipio was despondent and taken aback.
"When I first saw the house I really didn't want to go into it, but when I looked at the damage, I knew some things were messed up," said Scipio.
Brandy Paige, a resident of New Orleans East since 1997, was in disbelief when hearing the news of the tornado.
"I was like 'you've got to be kidding me.' I'm originally from Los Angeles. I'm used to earthquakes, and then I had to deal with Katrina, so I think I have had my fair share of mother nature," said Paige.
For residents of New Orleans East, this was a feeling they were all too familiar with. Some of the members of the neighborhood had experienced the same devastation during Hurricane Katrina in 2005.
"The tornado took the roof completely off my house; it's like we are starting Katrina all over again. Except this time we didn't have a warning," said Demetrias Temple, a local resident.
Temple has been living in the East since after Katrina and wonders if she should have given up and left New Orleans or should she continue.
"I have been living in this area since Katrina; we lost our home during Katrina. We moved over here to the East thinking it would be safer but now I wonder should I just give up," said Temple.
But Scipio believes this is just another obstacle that the people of New Orleans can overcome and shows how resilient they can be.
"Personally, we did it before, and we can do it again, this just makes us stronger and gives us strength to keep moving forward," said Scipio.
With so many homes being destroyed during the tornado and people in need of help, there has been a strong output of support from residents and even people from out of town.
Arlene and Chuck Corby, a married couple from Florida, were in town for the Mardi Gras parades but felt that they needed to lend a helping hand to those in a time of need.
"We were recovering from Krewe Du Vieux, but this is the best way to recover. To help others with the recovery process," said Arlene Corby.
A simple New Orleans philosophy was the reason that called Arlene out to help and is why she says New Orleans has her soul.
"The philosophy 'Lagniappe,' meaning to do a little bit more. When we were traveling and we got stuck the output of support was amazing. That's what I kept in mind and why I love this city," said Corby.
Scipio believes that the help from outsiders will give residents the strength needed to rebuild New Orleans East.
"It's a good thing that they are helping us; they are going to receive their blessings. The more hands on deck, the more ability we will have to rebuild this city all over again," said Scipio.
And through this all he is a firm believer that the residents have each other's backs, and are in this together.
"We are going to be the ones to rebuild our own houses. This is a family deeper than bloodlines if I am here for you and you are here for me then that's family," said Scipio.