Maroon Minute for March 20, 2017
Hang on for a minute...we're trying to find some more stories you might like.
ANCHOR INTRO
HELLO I'M ERIN SNODGRASS AND THIS IS THE MAROON MINUTE FOR MONDAY, MARCH 20.
GREEK WEEK
LOYOLA'S ANNUAL GREEK WEEK KICKED OFF YESTERDAY WITH A DAY OF SERVICE IN NEW ORLEANS EAST. SOCIAL FRATERNITY AND SORORITY MEMBERS HELPED CLEAN UP STORM DEBRIS FROM THE TORNADO THAT HIT THAT NEIGHBORHOOD LAST MONTH.
EVENTS CONTINUE THROUGHOUT THE WEEK AND INCLUDE SPLATTER BALL, A TRIVIA NIGHT, GREEK GAMES, AND THE AIRBAND DANCE ON THURSDAY NIGHT AT 8:30 IN THE GYM.
ADVISING
FOR RETURNING STUDENTS, THE ADVISING PROCESS BEGINS TODAY. YOU MUST MEET WITH YOUR ADVISOR DURING THE NEXT TWO WEEKS.
UNDERGRADUATE AND GRADUATE REGISTRATION BEGINS APRIL 3RD AND A LIST OF AVAILABLE COURSES FOR BOTH THE SUMMER AND FALL CAN BE FOUND ON LORA.
FOOLS FEST
STUDENT AND ALUMNI BANDS WILL TAKE OVER THE PEACE QUAD SATURDAY FOR FOOL'S FEST.
MORE THAN 10 BANDS WILL PLAY ON THREE STAGES… FROM 11 A-M TO 7 P-M.
YOU CAN ALSO PLAY CARNIVAL GAMES… EAT FOOD FROM AROUND THE GLOBE… AND SHOP FOR ART CREATED BY LOYOLA STUDENTS.
KID ACTIVITIES INCLUDE FACE PAINTING AND MAKING FRIENDSHIP BRACELETS.
FOOL'S FEST IS FREE TO ALL MEMBERS OF THE LOYOLA COMMUNITY.
PELICANS
LAST NIGHT, THE NEW ORLEANS PELICANS BEAT THE MINNESOTA TIMBERWOLVES IN A SECOND HALF COMEBACK, WITH A FINAL SCORE OF 123 TO 109.
TRAILING BY 6 AT HALFTIME, ANTHONY DAVIS DEMARCUS COUSINS AND JRUE HOLIDAY SCORED 27 OF THE 40 POINTS SCORED IN THE THIRD QUARTER. THE PELICANS ARE NOW 4-7 IN GAMES WITH COUSINS IN THE LINEUP.
ANCHOR OUTRO
THAT'S OUR NEWS FOR NOW. LIKE US ON FACEBOOK AND FOLLOW US ON TWITTER AND INSTAGRAM FOR MORE NEWS. HAVE A GREAT DAY!

About the Writer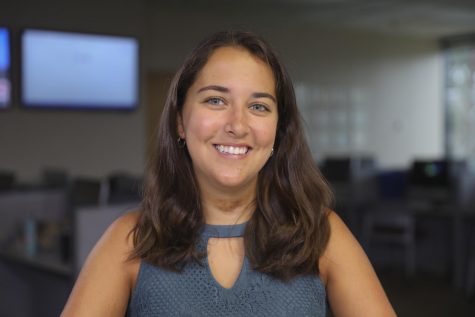 Erin Snodgrass, Editor-in-Chief
Erin Snodgrass, mass communication senior, is excited to be serving as Editor-in-Chief of the Loyola Maroon this semester. She has previously worked as...