Maroon Minute for March 27, 2017
ANCHOR INTRO
HELLO I'M KATELYN FECTEAU FOR THE MAROON MINUTE FOR MONDAY, MARCH 27.
TOURISM
A NEW STUDY BY THE NEW ORLEANS CONVENTION AND VISITORS BUREAU SAYS THAT NEW ORLEANS HAS BROKEN A TOURISM RECORD SET BEFORE HURRICANE KATRINA, WITH NEARLY 10.5 MILLION VISITORS IN 2016. LAST YEAR'S VISITORS SPENT NEARLY **7.4 BILLION DOLLARS IN NEW ORLEANS, AND MAYOR MITCH LANDRIEU SAYS THAT HE LOOKS FORWARD TO AN EVEN BETTER YEAR IN 2017.
FOOLS FEST
LOYOLA'S FAMILY FAIR WENT ON DESPITE THE RAIN THIS WEEKEND… (VO) WITH TABLING BY SEVERAL CAMPUS GROUPS AND PERFORMANCES BY LOCAL BANDS. SOME OF THE EVENTS HAD TO BE MOVED INDOORS OR INTO THE WEST ROAD GARAGE… BUT IT WAS STILL A GREAT WAY FOR STUDENTS TO LEARN MORE ABOUT WAYS TO GET INVOLVED ON CAMPUS.
SWEET BIRD OF YOUTH
TONIGHT ON THE SECOND FLOOR OF MARQUETTE HALL, THE SOUTHERN REP THEATER WILL PRESENT SWEET BIRD OF YOUTH AS PART OF A PARTNERSHIP WITH THE TENNESSEE WILLIAMS AND NEW ORLEANS LITERARY FESTIVAL. TICKETS ARE AVAILABLE ONLINE ON SOUTHERN REP'S WEBSITE. THE SHOW RUNS UNTIL SATURDAY AND STARTS AT 8.
DANCE MARATHON
LOYOLA'S DANCE MARATHON IS THIS SATURDAY, AND REGISTRATION CONTINUES ALL WEEK SO IT'S NOT TOO LATE TO SIGN UP AND DANCE THE NIGHT AWAY FOR A GOOD CAUSE. ALL PROCEEDS GO TO THE CHILDREN'S HOSPITAL OF NEW ORLEANS. LOYOLA IS JUST ONE OF THE 150 SCHOOLS PARTICIPATING IN THIS NATIONWIDE MOVEMENT TO RAISE MONEY FOR THE CHILDREN'S MIRACLE NETWORK, AN ORGANIZATION THAT GIVES TO CHILDREN'S HOSPITALS ACROSS THE COUNTRY.
ANCHOR OUTRO
WELL THATS OUR NEWS FOR NOW…
BE SURE TO LIKE US ON FACEBOOK AND FOLLOW US ON TWITTER AND INSTAGRAM FOR MORE NEWS…
HAVE A GREAT DAY..
About the Writer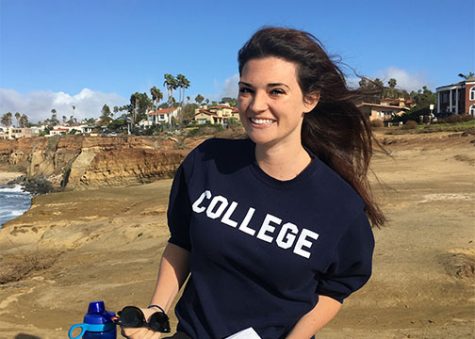 Katelyn Fecteau, Opinion Editor
Katelyn Fecteau is a senior English writing major from San Diego, California. She joined the Maroon in the fall of 2016, and is now the opinion editor....