Study abroad programs make travel more affordable, experts say
Hang on for a minute...we're trying to find some more stories you might like.
Francesca Bua, english junior, considers one of the most important parts of her education to be the ones outside the classroom.
"With all the resources we have now, it's almost like it's not even a privilege to travel," Bua said. "It should be an obligation."
Since beginning her freshman year at Loyola University New Orleans, Bua has traveled to 12 different countries: France, England, Morocco, Germany, Switzerland, Austria, Italy, Netherlands, Spain, Belize, Greece and Ireland.
Having traveled to so many different places and spending the first semester of her junior year abroad in France, Bua offered some firsthand advice to students interested in traveling.
She said it is always beneficial to form relationships with expats, people living in a foreign country temporarily. She met a friend from London at Loyola last year and kept in touch with him. When she traveled to London, she contacted him and was able to stay at his house during the time she was there.
"It's easier when you know people in the area because you don't have to worry about finding an affordable place to stay," Bua said.
In addition to finding affordable housing, Bua advises students to check out low-cost airlines, such as Ryanair and Easyjet.
She said the planning process can be overwhelming if doing it alone, so she noted it might be easier for some people to book their trip with a student tour.
"Student tours plan everything for you and airfare is included, so it can help make things less stressful," Bua said.
In 2016, Bua joined a group of about 15 students for Loyola's summer abroad program in Ireland.
Every other year, the program allows a group of students to spend a month during the summer in Dublin, Ireland. The next trip will be in 2018.
Robert Bell, director of the program, said the Ireland trip allows students to gain worldly experience on a different level than they gain from school.
"The point is to expose students to Irish culture and history in a way that's more meaningful than what you would read in a book," Bell said. "The goal is for Ireland to come to life."
Students on the trip stay and study at Trinity College, the oldest college in Ireland. The group also takes weekend trips outside the city.
Bell agreed with Bua's statement that traveling is an obligation.
"The benefit of traveling is to throw yourself into situations where you're not comfortable. It's through that lack of comfort that we grow," Bell said.
Bell said for students who are interested in traveling but are on a budget, it is a good idea to travel as part of education because costs are minimal. For students who may be interested in studying abroad but do not know where to start, Bell recommended going to the Center for International Education in Mercy Hall.
"They have a wide array of programs they can talk to you about. If you have a particular area of interest, they can help narrow your choices down. It's important for students to do their homework about where they want to go and why," Bell said.
Victoria Wilson, music industry sophomore, has a strong interest in traveling, but has never been outside of the United States.
"It's never worked out where I could go before, but now I'm in a position where I finally can travel," Wilson said.
Wilson will participate in a study abroad program this summer and spend a month in India. She is excited to be able to visit a foreign country for the first time, and said she is fascinated by different cultures and lifestyles around the world.
"If there were no barriers stopping me, I'd honestly visit as many countries as possible," Wilson said. "Traveling is an expensive hobby, but it is also mind-opening and wonderful. I'm very excited to see where my life will take me."
As for Bua, she said she will continue to travel and experience new things. The next stop on her bucket list of places to visit is Asia. Specifically, she would like to visit India, Japan and Thailand.
"I feel like when you're young, you have this spirit that makes you feel like you're on top of the world. You have the whole world at your fingertips and you're not afraid to experience crazy things. That's why we travel, isn't it? To experience new things and not just live your normal life," Bua said.

About the Writer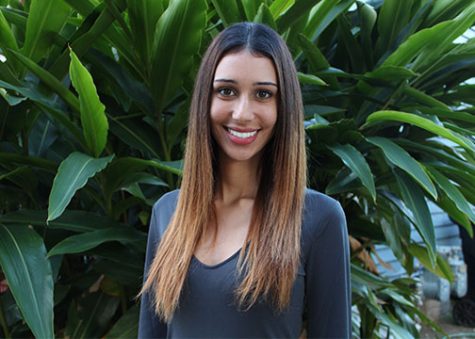 Haley Pegg, Senior Staff Writer
Haley Pegg is finishing up her final few credits at Loyola as a part-time journalism and marketing senior. Spring 2017 will be her second semester serving...