Loyola Community mourns the loss of longtime journalism professor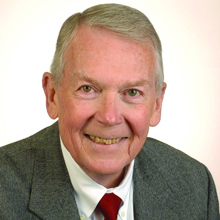 The New Orleans community is mourning the loss of Larry Lorenz, a dedicated journalism professor and former host of the WYES show "Informed Sources." He died at the age of 79 at Touro Infirmary, just one day shy of his 80th birthday.
The retired Loyola professor was best known for his high expectations of his students and utmost respect of the proper use of the English language. Friends and colleagues at Loyola remember him by his stern but caring critiques.
Bob Thomas, the chairman of the Loyola Center for Environmental Communication, is one of the many friends and colleagues at Loyola who Lorenz mentored.
"I was lucky to know Larry for 25 years and work with him for 21. He wanted his students to excel, he left a legacy of rigor in being a professor and we still talk about that a lot, and I think we always will," Thomas said.
Leslie Parr, A. Louis Read distinguished professor in communication, was hired by Lorenz and knew him for 34 years.
"I think that he made an indelible legacy and impression on this school and in the entire university to say the least," said Parr.
Cathy Rogers, another professor who was brought to Loyola by Lorenz, knew him for 30 years.
"He was very warm and funny. He was also very smart, witty and intelligent. He supported me through my promotion process and I have always been grateful for that," said Rogers.
In 1962, Lorenz took his first job in the field of journalism at the United Press International. He reported on the Cuban Missile Crisis, the civil rights movement and, most notably, was among the team that first released a flash news bulletin that President Kennedy was assassinated.
From 1987 to 2013, Lorenz was the host of "Informed Sources," a panel that discussed local media coverage and the news. He was a teacher, a father, a researcher and a textbook author.
Lorenz was also a pioneer and partial founder of Loyola's College of Social Sciences, where he served as dean until 1994, when he stepped down to teach full time.
Parr called him a "role model to all of us" for his dedication to teaching and improving his students. It is that dedication that led him to be the recipient of the Dux Academicus award, the highest honor that a Loyola professor can receive, in 2009 as well as retiring as A. Louis Read Distinguished Professor Emeritus status in 2011.
Crystal Forte, '03, the web content strategist in the Office of Marketing and Communications, took Lorenz's class her senior year at Loyola.
"He cared about [the students'] success and used his role as their teacher to really push them to be the best that he could be, but also his praise meant everything to those who received it because you knew that you had done good journalism," Forte said.
Lorenz's caring attitude towards his work is one of the many things that made a lasting impression during his time at Loyola.
"That's one of the endearing things about him was that he did it because he cared. He expected them to be perfect because that's what you have to be in journalism. You can't be lax and you can't not pay attention to detail," Thomas said.
One of the biggest takeaways that Forte remembers is that he stressed the importance of the human side of journalism.
"You're not just doing a job, there are people behind those stories and you really need to connect with those people in order to tell the best story possible," Forte said.
Lorenz deeply enjoyed his time at Loyola and the beauty of New Orleans.
"There's really nothing quite as satisfying as walking across the campus at end of day, with the sun going down and students sitting on those benches, and saying to yourself, 'This is a pretty damn good life,'" Lorenz said in an interview with the Maroon in 2002.
The funeral mass will be held at Holy Name at 12 p.m.