An Illustrated Guide to Uptown Bars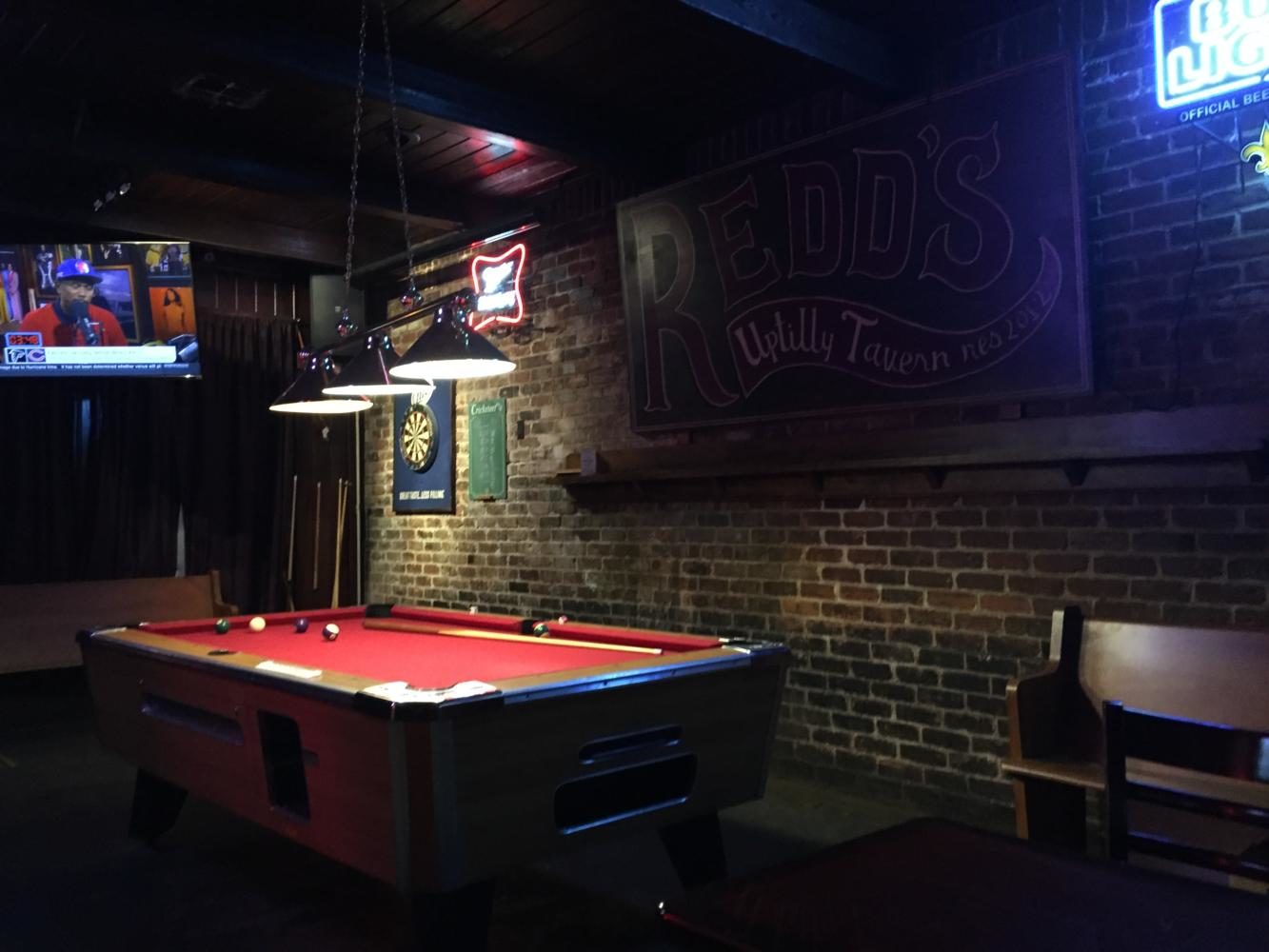 Mairead Cahill
September 15, 2017
Bruno's Tavern
7538 Maple St.

PRICE: $$

AGE: 18 to enter

21+ to drink

With beers and cocktails starting at just $3, it's no surprise the Maple Street spot is popular with Loyola and Tulane students a like. If you drop by Bruno's, expect to find the latest sports game on TV and students outside on the patio chatting over drinks and cigarettes.
Head into the back room for pool, darts, shuffleboard and Jenga, or stick by the front door if you fancy playing DJ on the digital jukebox.
Bruno's keeps a chilled but busy vibe for customers, and if food takes your fancy, try the deep-fried mac and cheese bites. They're the perfect way to end a night of happy hour deals.
TOP TIP: Head to Bruno's on Wednesdays for $5 bottles of wine and half off food with a valid undergrad ID.
Ms. Mae's
4336 Magazine St.

PRICE: $

AGE: 21+
This hole in the wall dive bar should be on every college students bucket list. The club Ms. Mae's is one of the cheapest 24 hour spots in the city, and as a cheap spot for liquor and beer alike, Ms. Mae's promises to be good to a college student's bank account. Although, it may not be as good to your liver.
Open all hours and found at the intersection of Magazine Street and Napoleon Avenue, Ms. Mae's is a convenient place to stop towards the end of your night out. Also, being out of the University bubble means you'll meet more than just your average college frat boy at this drinking hole.
TOP TIP: If you and your friends are up for a challenge, head over to Ms. Mae's for the 24 hour challenge. Patrons must have a drink every hour for a straight 24 hours.
Snake and Jake's Christmas Club Lounge
7612 Oak St.

PRICE: $

AGE: 21+

For good reason, Snake and Jake's has been a staple part of New Orleans college students' lives. Hidden among the residential roads of Uptown, the laid-back staff and cheap drinks make this glowing red Christmas-time shack perfect for winding down after a big night out.
The tin roof shack embraces it's reputation as one of the best dive bars in the U.S. and is open everyday from 7 p.m. to 7 a.m.
We would recommend stopping by at the end of your night for a drink and a jukebox shuffle. However, their daily happy hours from 7 p.m.-10 p.m. are so good it gives you a reason to stop by at the start of your night too.
TOP TIP: Daily happy hours from 7 p.m.-10 p.m. include $2.50 well drinks and $2 beers.
Monkey Hill Bar
6100 Magazine St.

PRICE: $$$
AGE: 18 to enter
21+ to drink

Monkey Hill Bar is not your typical college hangout. The more sophisticated spot offers an extensive cocktail menu if you are in the mood for something fancy. And, with the weekday happy hours that run from 3 p.m. to 8 p.m from Monday to Friday, sophistication doesn't have to break the bank.
Head upstairs to the balcony to watch the business of Magazine Street pass you by. Also, bring your four-legged friends along for the outing because well-behaved dogs on leads are welcome at Monkey Hill.
TOP TIP: Satisfy your sweet tooth with the Cupcake-tini – a desert and drink all in one!
The Bulldog
3236 Magazine St.
PRICE: $$$
AGE: Strictly 21+
Situated on Magazine Street, the Bulldog offers a more 'off-campus' feel than Bruno's Tavern. Expect to find an equal balance of local young professionals and upperclassman college students at this stylish spot.
Boasting an impressive beer selection, the Bulldog feels more like an up-market pub than a bar, and the food menu compliments this vibe by offering solid pub-grub that promises to soak up any of the 50 tap beers you may have decided to try.
Head over to the Bulldog and hang out by the fountain under the fairy lights in the early evening to take advantage of the week days happy hour that runs from 2 p.m.-7 p.m.
TOP TIP: The Bulldog serves drinks in cups with amusing quotes written on the glass. Few patrons realise that you are free to take your glass home with you, an easy way to stock up your college kitchen cupboards.
Tchoup Yard
405 Third St.
PRICE: $$

AGE: 21+

Most college students will make their way over to Tchoupitoulas Street late on a Thursday or Saturday to dance the night away on top of the pool table at F&Ms. However, if you fancy something different to the dancing sweat box that is F&Ms patio bar, head over to the Tchoup Yard.
Tucked behind an unassuming warehouse, going to Tchoup Yard will feel like you stumbled into the worlds most welcoming backyard summer party.
The outdoor patio and small indoor area is decorated with a Pinterest-worthy array of lights, colourful umbrellas and picnic tables that give the yard a European vibe on a cooler New Orleans night.
Whilst the humble bar does not have it's own kitchen, the roster of food trucks that frequent the yard mean that you can try something different every day you go!
TOP TIP: The Fròze – It's a speciality at the Yard. It is as if Rosé wine and a Daiquiri had a child and the Fròze was born. It is deliciously summery and refreshing! Be sure to order it if you visit the Tchoup yard on a hot and humid day.
Philips
733 Cherokee St.
PRICE: $$

AGE: 18 to enter 21+ to drink

Phillips is a halfway house between a typical college bar and a more sophisticated cocktail lounge. Quieter than its neighbour Bruno's Tavern, Philips promises a more relaxed vibe than a normal busy college bar.
The comfy seating is complimented by candles and mirrors which come together under the light of the disco ball to create a laid back, lounge-like atmosphere.
Situated on an unassuming corner of Maple Street, Philips is primed to be the perfect student spot and with happy hours everyday and half off wine on Wednesday's, Philips is a surprisingly student budget friendly bar.
TOP TIP: Stop by on Tuesday night for a game of trivia. Guaranteed crowds and half-off food and drink make it a more mature option to the Boot's 50 cent shot night.
St. Joe's
5535 Magazine St.
PRICE: $

AGE: 21+

St. Joe's is an Uptown bar easy to overlook. The rugged exterior doesn't seem to fit with it's cute and polished Magazine boutique surroundings.
However, don't be fooled by the rough outer appearance – St. Joe's should be a go-to spot for every college student looking to escape the more traditional student drinking sphere.
The back patio and paper lanterns paired together with the church-themed decor of the dimly lit inside area give St. Joe's a rustic feel. Couple the laid-back decor with the friendly bar staff and you've found yourself a perfect hangout spot to grab a couple of drinks and catch up with friends.
TOP TIP: No trip to St Joe's is complete without sipping on their signature Blueberry Mojito – Stop by between 3 p.m. – 8 p.m. midweek for a discounted price.