Wolf pack continue struggles in the Den
The Loyola Wolf Pack volleyball team fell in the Den against the Spring Hill College Badgers on Tuesday Oct. 17. With the loss, the pack have now lost three of their last four home games.
Loyola had a hard first set when Allison Hartmann, a sophomore psychology major, went down with an injured ankle early in the night. Coach Zabal said that "Hartmann's injury affected the beginning of the match because we had to figure out how we were going to adjust because we practiced like we were going to have her playing." Spring Hill College took advantage of the Wolf Pack having to adjust and jumped out to an early lead. The badgers held on to the lead the entire first set and won 25-18.
Loyola tried turning things around in the second set, but came up short again. The Wolf Pack took the Beavers into what coach Zabal said was their longest set of the year, but ended up dropping the set to Spring Hill College with a score of 32-30. Coach Zabal said "It was good to see the girls fight and try to get it."
Spring Hill continued to have success in the third set. The badgers took 11-6 lead early in the third. The badgers went on to win the set with a demanding score of 25-16. With the loss tonight Loyola moves to 12-14 on the season and 2-7 in conference.
About the Writer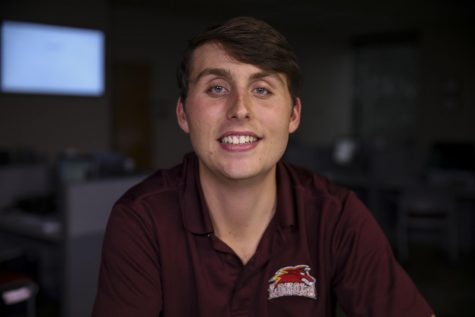 Will Ingram, Video Editor
Will Ingram is a mass communication junior that prefers to spend his days on a bike than in class. He has worked as the executive producer of the Maroon...