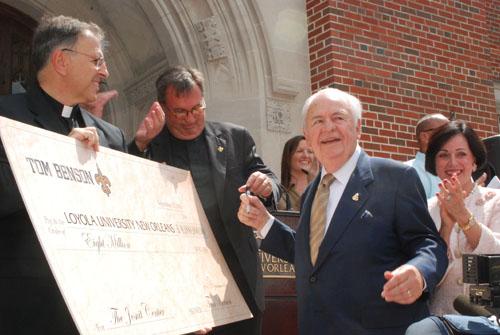 Tom Benson, self-made billionaire and Loyola A'48, has died after a weeks-long battle with an illness that has had him in the Ochsner Medical Center intensive care unit.
He was 90 years old.
Benson was admitted to the Ochsner Medical Center on Feb. 16 and remained in the ICU until his death.
He was born on July 12, 1927 in the 7th Ward of New Orleans. He served in the Navy during World War II before graduating from Loyola with a degree in accounting in 1948.
In the years after he amassed a fortune that reached nearly $3 billion, according to Forbes, making him the wealthiest individual in the state of Louisiana.
With his fortune, he donated regularly to Loyola University New Orleans.
Most recently, he pledged $5 million to the university to fund undergraduate scholarship in 2013 as well as $8 million to construct the Tom Benson Jesuit Center to foster the spiritual life of the Loyola community.
Benson is best known owning the New Orleans Saints since 1985. During his time as owner, the team experienced unprecedented success, including winning Super Bowl XLIV in 2010.
Benson also purchased New Orleans' NBA team, then known as the Hornets, in 2012 after a poor financial situation resulted in the NBA purchasing the team. Many feared the Hornets would leave New Orleans when the league put them up for sale in 2012, but Benson committed to keeping the team in the city, renaming them the Pelicans a year after his purchase.
Per Benson's will, his wife Gayle now takes over as owner of the teams.