Pastorek plans to conserve Loyola's future
As drastic changes have occurred at Loyola, the man everyone has been looking to for answers is Paul Pastorek.
Pastorek, A'76 and JD'79, replaced David Borofsky as Loyola's chief operating officer after his resignation in early April. Prior to taking on this role, Pastorek served on Loyola's board of trustees.
As the acting chief operating officer, Pastorek's role is to supervise the academic and financial operations of the university. Along with that, he deals with the Magis programs that help ensure the financial stability of Loyola.
Pastorek considers taking on the position as a labor of love.
"This is an opportunity to assure the financial and academic success of the university," Pastorek said.
Pastorek believes that he will do a good job as the chief operating officer because of the people he works with and all the work that has been done.
"It is because I know we have a healthy endowment and we are growing our enrollment that I'm going to be able to be a part of something really good and exciting," he said.
Pastorek has had a past role at the university as a student. Originally attending the University of New Orleans, he transferred to Loyola after his freshman year, following in the footsteps of his father who attended both undergraduate and law school as a member of the Wolf Pack.
Making the switch, according to Pastorek, was a decision for the better.
"I was able to get a high-quality degree undergrad diploma in finance," he said. "I think it has served me very well over the years."
After his undergraduate career, Pastorek decided he would move on to earning a law degree. Despite the numerous law schools in Louisiana, he chose Loyola.
"I knew then that there were many successful Loyola lawyers out there, and I wanted to be a successful lawyer," Pastorek said. "I knew that going to Loyola could make me successful if I took advantage of it."
Since his time as part of the Wolf Pack, Pastorek has worn many hats during his professional career. He has served as a partner at Adams and Reese LLP, General Counsel to NASA and has even been the Superintendent of Education for Louisiana.
"Although we sometimes are very competitive with each other, we're also very supportive of each other because the community relies on both of these institutions and other university institutions around the city," Pastorek said.
While he served as a member of the board of trustees, Pastorek has been an advocate for expanding the university.
"We're doing things now that are going to grow the university," he said. "At the same time, we have to trim expenses that are not necessary."
Pastorek sees this expansion as a necessary provision that his staff is working towards.
"The board of trustees is committed to doing that with our plans to bring in a new president," he said.
Pastorek also believes Loyola's future is bright because of the students. He cites the student town hall on April 18 as seeing that students are asking responsible and reasonable questions.
"I know that the university is strong because of the quality of those students," Pastorek said. "If those students are high quality, that means we're picking the right students to come here, we're training them well, our faculty is doing their job, and we're going to be successful every year in the future."
Aside from working at Loyola, Pastorek loves to spend time with his extended family and work on environmental conservation projects. Despite having no prior background in botany or biology, he works with governmental agencies and scientists to help protect endangered plant species.
"I'm a conservationist to the core," Pastorek said.
Pasotrek believes that his current role at Loyola has many parallels to his time as a Loyola student. During his junior year at Loyola, Pastorek ran for vice president of the Student Government Association. The election was highly contested and was tried by the Student Judicial Court ending with Pastorek gaining the position by a vote of 3-2. Through his position, he fought for students to have a place on the university's budget committee and was the first student representative to be on the committee.
"I find it very ironic that I was advocating for students when I was on the university budget committee. I went to my first university budget committee meeting last week, and Ben Weil was advocating for students now as a student member of the university budget committee," Pastorek said.
Despite all the years that have gone since his days as a student, Pastorek still has the passion to fight for Loyola's mission and its students.
"Even though I'm in the official capacity, I still am interested in serving students in trying to assure the financial stability of the university," Pastorek said.
About the Writer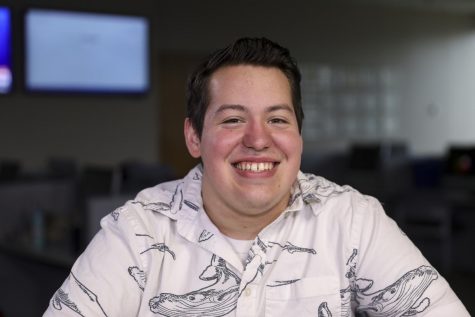 Cody Downey, Reviews Editor
Cody Downey is a mass communication senior from New Orleans, Louisiana. He is currently serving as the Reviews Editor. In previous years, Cody held positions...