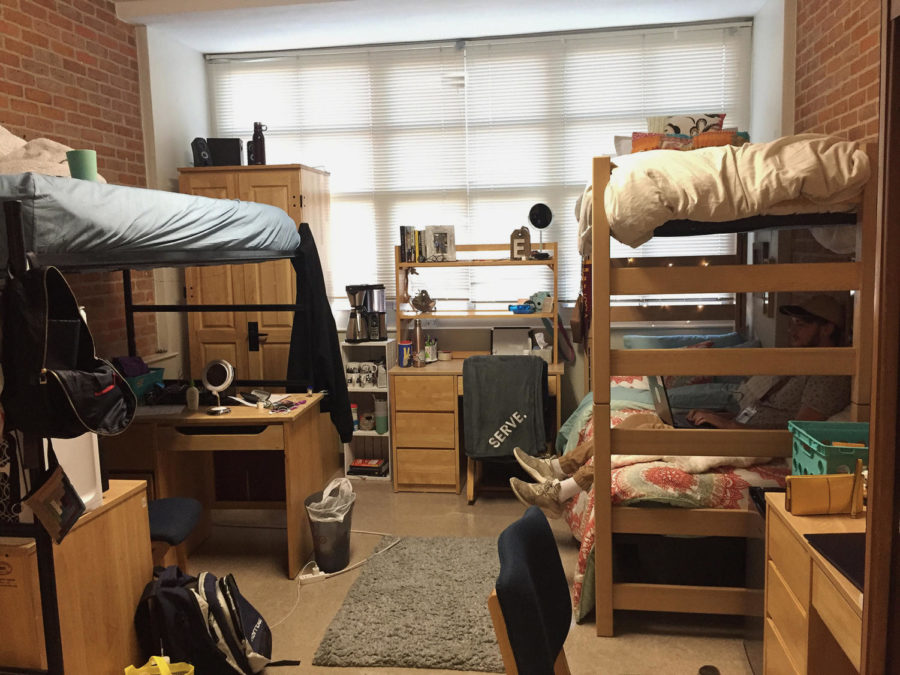 Emma Ruby
In response to an increase in students living on campus this year, Loyola's Office of Residential Life has placed more than 200 freshmen in three-person dorm rooms in Biever Hall.
Residential life director Amy Boyle said that in 2000 the university updated all Biever rooms facing the residential quad. Each of those rooms were expanded to accommodate a third person and additional furniture.
"We have only placed triple occupancy assignments to those expanded rooms," Boyle added.
About 75 rooms in Biever Hall now house three students. Biever — Loyola's only all-freshmen dorm — has the capacity to hold 410 students total, according to residential life's webpage.
For accounting freshman Kallan Trombino, the three-person setup hasn't been bad.
"It's a little bigger than the doubles, I've noticed," Trombino said. "For the most part, my roommates and I are pretty low maintenance, so we don't have too many belongings."
However, she does expect the limited space to be "challenging."
"I think we'll end up merging into each others' spaces," she added. "It's cramped, but it's doable."
Trombino received notification in July she had been assigned to a three-person room.
"I talked to (my roommates) before school started so we got to know each other pretty well," she said.
Biever rooms with three occupants have three desks, two closets, a wardrobe, a bunk bed and a lofted bed with a dresser below it. Trombino and her roommates agreed the two students occupying the bunk bed would use the closets, while the person in the lofted bed would use the dresser and wardrobe.
Students assigned to three-person rooms pay a "triple rate," Boyle said — about $560 less than students in two-person dorms.
Boyle said she has not received many complaints about the triple spaces since freshman move-in day August 16.
"With the concerns we have, we are following up and will do our best to de-triple spaces when we can," Boyle said. "(Resident assistants) will also work hard to complete those roommate agreements first and will be available to support students' concerns (as they) arise."
According to Boyle, around 1,400 of the university's more than 2,600 undergraduate students are living on campus this semester. She said that's a seven percent increase from last year's numbers.
Loyola requires its first and second-year students to live on campus. Juniors and seniors may live on or off campus. Students with more credit hours under their belts and higher GPAs are able to request rooms first, according to residential life policy.
"To accommodate our incoming class and returning students, we had a choice," Boyle said. "Either reduce the number of upperclass bed spaces or add spaces to our existing footprint."
Residential life has assigned three-person rooms in Biever before, Boyle added, most recently during the 2012/13 school year.
In addition to tripling rooms in Biever this year, the university opted to renovate a building on Loyola's Broadway Campus. The updated building, Founders Hall, can accommodate 43 students. Founders Hall houses sophomores, juniors and seniors.
No other long-term construction plans are in place to account for larger incoming classes in the future according to Boyle.
"We will continue to assess space to thoughtfully consider what is best for our student experience," she said.