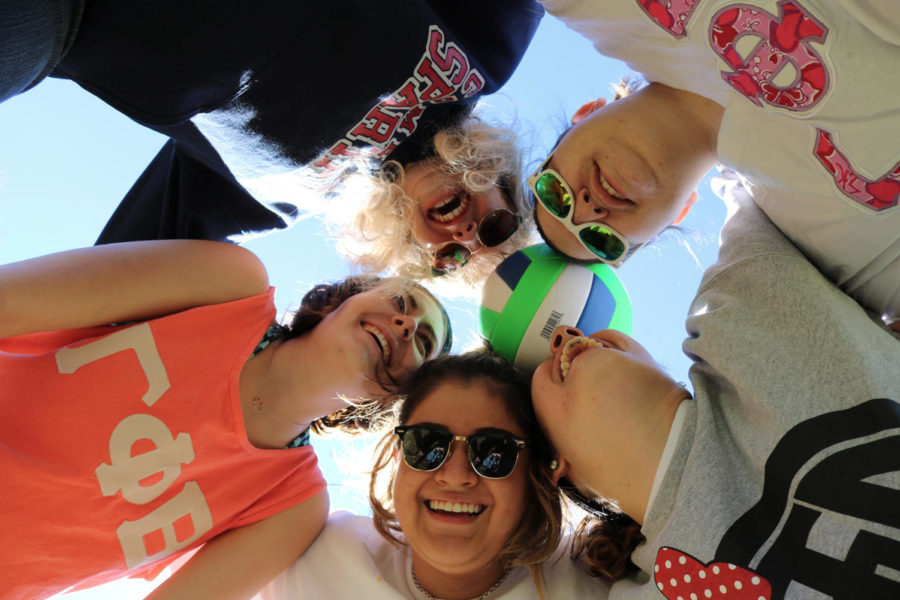 Sidney Ovrom
For women looking to join a sorority, it can be the most wonderful time of the year, or the most nerve-racking three days of your life. Yet, all the pain is quickly erased when you run home to your new sisters on bid day.
Greek Life gets a bad reputation at most state schools, and I myself was hesitant to become a member of a Greek organization, but I'm proud to say at Loyola we pride ourselves on having a completely different recruitment experience.
Our recruitment isn't about what you wear or who you know; instead, it's about who you are and what you want to become over the next four years. Going through recruitment may be scary, but it is so worth it to take that leap of faith. Being in a sorority teaches you to learn about financial responsibility and time management. Your sisters will push you to keep your grades up and be the best possible version of yourself. You will always have someone to sit with at dinner, and there will be dozens of late night runs to Cane's or Boot Pizza.
Here are a some tips to ease your stress during the hectic and exciting time that is Panhellenic recruitment.
1. Keep an open mind
"Going through recruitment was so eye opening! It was so great to see and experience what each sorority does and what each Greek woman feels so passionately about, whether it is sisterhood, philanthropy, or their preference ceremony ritual." – Amy Ngo, Mass Communication Junior, Gamma Phi Beta.
You may think from day one you know exactly who you'll be running home to on bid day, but remember, recruitment allows you to really get to know the women in each organization on a deeper level so you may be quite surprised. Since Loyola is a tight-knit, small campus even if the girls you are talking to aren't your future sorority sisters they may be great friends to know on campus.
2. Understand that we're nervous too
"The thing that I realized going through recruitment on the other side is that these women were just as nervous as I was." – Becca Driever, Business Analytics Senior, Delta Gamma.
Yes, they've been in your exact same position, too. Walking into a room and talking to a group of women you've never met could be an intimidating exercise, but please believe me when I say- they're just as nervous as you are. Sororities want you to like them just as much as you want them to like you. As you are trying to convince them you are a great addition to their sorority, they are also trying to prove why you should join their sorority. So keep in mind it really does go both ways.
3. Not getting an invite back doesn't mean a sorority hates you.
"Going through recruitment was so exciting for me. It was a great way to meet new people, even girls who aren't in my sorority now. But I also struggled when only one sorority asked me back for day 2, but I put my faith in the system and now I couldn't be happier with my sisters in Gamma Phi Beta."-Sidney Ovrom, Digital Filmmaking Sophomore, Gamma Phi Beta.
From day one of recruitment, you're most likely going to have your heart set on at least one of the sororities. But please know, that if you don't get extended an invitation to come back, it doesn't mean they hated you as a person. The point of a sorority is to find women who they believe carry the same values and interests as they do. So if they believe that you're a better fit for a different sorority, it doesn't mean that something is wrong with you.
4. Don't listen to what you hear
"Going through recruitment I was really quick to doubt the entire process. I never saw myself being in a sorority and it was something I decided to go through on a whim. If I could tell my "Potential New Member" self going through recruitment anything, it would definitely be to ignore all stigmas and stereotypes that come to mind when we think of sorority women. In reality, we are groups of strong women that work towards the most amazing philanthropic efforts, we empower women to be the best they can be and even make our communities a better place." – Abigail Perez, Biology Junior, Theta Phi Alpha.
Leading up to recruitment you may be subject to hear negative comments surrounding a particular organization or women within them. Often times, these rumors aren't true or over exaggerated, so don't let what you hear affect your decision.
5. Wear something comfortable, but fashionable
"Panhellenic Recruitment at Loyola does not have all the pressure of a state school. It is very relaxed and really just about getting to know the girls. Everyone that you meet is really sweet and you get the opportunity to build lifelong friendships from that experience." – Olivia Dadoun, Political Science Sophomore, Alpha Chi Omega.
Loyola sororities want to see your true self, so make sure your clothing is an extension of that. Often times at state schools, women feel obligated to dress a certain to impress a particular sorority, at Loyola we embrace panhellenic women from all backgrounds. People who you will one day call your sisters are not going to judge you and want to befriend you for who you are. During recruitment you want to look like your best self, but remember that comfort is key. Comfortable shoes and dresses that allow you to move and breathe are the best options as you are going to be doing a lot of walking and moving. When you are comfortable, you tend to feel and act your best. Plus you want to make sure when you walk into a room of women you are able to be confident and command the room, you don't want to risk wobbling in new high heels, or even twisting your ankle.
6. Stay positive and don't forget self-care
"Recruitment can be very emotionally exhausting since you have to have your personality essentially turned on for three days straight. The biggest thing that helped me was staying positive. You will be tired at the end of the day and if you use your remaining energy to lift yourself up and focus on the good, it will keep you sharp, happy and ready for the next round." -Jana Sanders, Music Industry Junior, Alpha Chi Omega
Your sisters want to make sure you're happy and healthy, and often times that means being well-fed and well-rested. Recruitment rounds are long… Make sure that you are well rested, fed, and feeling your best as you don't want to risk becoming hangry and grouchy. Go to bed early! This may be hard as you might be riddled with nerves, but sleep easy dreaming about bid day!
If there is one thing to take away from this – don't sweat recruitment. Take a deep breath before you enter the room and present your best, true self. As cliche as it seems, the process has a way of working out, and more times than not, it happens to be a good fit. Happy Recruitment!