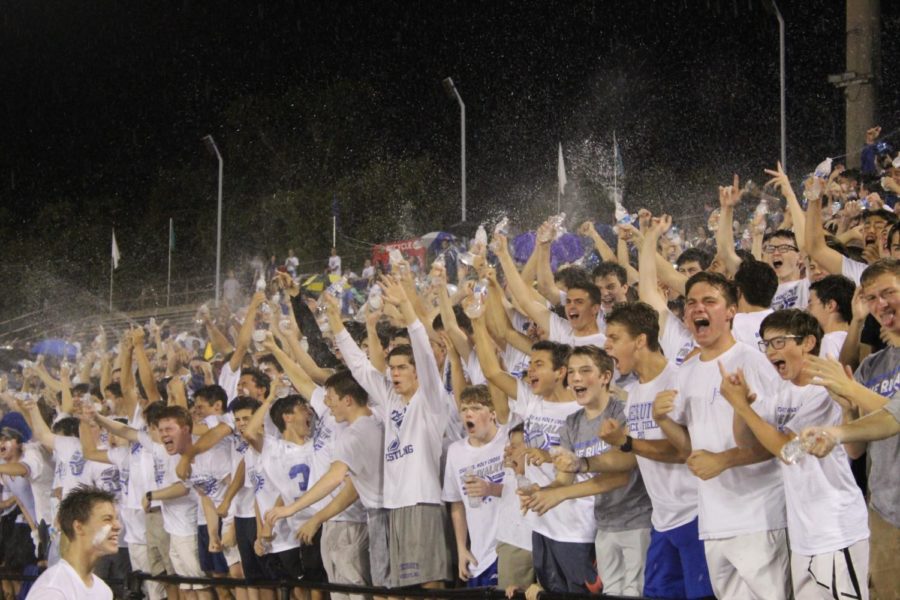 Natalie Wolfe
There's one question New Orleans natives can't escape: "Where'd you go to high school?" It's a seemingly simple inquiry, but for many, the answer is rife with history.
New Orleans native Ryan Gallagher never doubted he would attend Brother Martin High School. It was where his father, grandfather and uncles went, and he grew up checking high school box scores because Crusader football and basketball were "a big deal" to his family.
"I was raised to bleed crimson and gold," he said.
Gallagher still remembers the first Brother Martin game he attended. It was 1994, years before he became a student. Brother Martin played Jesuit High School, one of two schools Gallagher considers to be his alma mater's biggest rivals.
"We won three to nothing against Jesuit," he recalled. "It was just a regular football game, middle of the season. We kicked a field goal early in the game and held on."
According to Gallagher, now Brother Martin's principal, family tradition plays a large role in New Orleanians' high school experiences, especially for those attending Catholic schools in the area.
"When it comes to Catholic high schools, it's a really big deal in families to continue the legacy you've grown up hearing about," Gallagher said. "You can see the history of a rivalry even in elementary schools when kids talk about where they're going to go."
Loyola junior Greg Fortier, who graduated from Jesuit in 2016, said New Orleanians seem to internalize school identity.
"Needless to say, they want their high school to be better than others," Fortier said. "It's a representation of yourself."
Catholic rivalries, he added, are "another world."
The Catholic League
Many schools across the country have rivalries — those that warrant disparaging humor aimed at the opposing team, those that pack stands and leave fans hoarse from cheering for their alma mater and those that require students demonstrate their school pride weeks in advance of "the big game."
However, according to Ken Trahan — owner of crescentcitysports.com and host of the statewide radio show Ken Trahan's Original Prep Football Report — there's nothing quite like a New Orleans matchup.
"In the New Orleans area in particular, when people ask you the question 'Where did you go to school?' and you answer the question with 'Loyola,' they say 'No, I want to know where you went to school,' meaning high school," Trahan said.
"That's unbelievably unique to this place," he added. "High school sports are a tremendous passion here. They have a great following, and there are a lot of community schools, too, that are live and die with their athletic programs."
Trahan, an alumnus of Archbishop Rummel High School and Loyola University, has been covering New Orleans' Catholic League for about 40 years. He understands the league's school dynamics better than most.
"Some of them are neighborhood rivalries. Some are simply great traditional rivalries," Trahan said. "Everyone has a natural rival in [the Catholic League] by and large."
The Catholic League is an all-boys league in the greater New Orleans area consisting of six parochial high schools — Brother Martin, Jesuit, Holy Cross, Archbishop Rummel, St. Augustine and Archbishop Shaw — and John Curtis Christian School.
"Every Catholic League game is a big game," Gallagher said. "All of the students have grown up with each other at the different elementary schools and at the playgrounds, and now they're finally split on different teams.
"You have to bring your 'A' game in a Catholic League rivalry game, or you're going to get beat, no matter who might be the better team on paper," he added.
According to 2016 Brother Martin alumnus Joey Michel, now a music industry junior at Loyola, at least a year's worth of bragging rights are on the table during Catholic League games. He said "sports are the big thing" but suggests the spirit behind cheers and chants are the true measure of school pride.
"If it was a big game, we would have a pep rally, sometimes games to build up to the event," Michel said. "They were always really pushing and really encouraging people to fill up the student section…Whether kids actually did show up to the game or not, I think it engrained a sense of togetherness, brotherhood."
More than a game
Gallagher graduated from Brother Martin in 2000. He has experienced Crusader football on all sides — as a kid growing up, as a student, and later as an alumnus, teacher and principal.
But that's not as unique as it may seem. Peter Kernion, Jesuit's principal, and Marc Milano, principal of Archbishop Rummel, both graduated from their respective schools years before they became administrators.
"I enjoyed my experience here as a student," said Kernion, who graduated from Jesuit in 1990. "So certainly when I became a teacher and had the opportunity to come back and teach here, that was very appealing to me."
Milano had a similar experience at Rummel, leading him to send his own son to his alma mater years later.
"What stood out to me was how much the teachers cared about the individual students — not only their academic development, but their spiritual development," Milano said.
According to 2016 Brother Martin graduate Alex Lucas, now a music performance junior at Loyola, most of his teachers at Brother Martin were alumni of the school.
"They're really good about keeping the alumni as part of the school community," Lucas said. "It's not like you graduate and you move on. They have events all the time for alumni…Even for students that are legacies, if you're a student there, they have father-son legacy days, where the father comes to school and you have lunch."
Lucas was born and raised in New Orleans. He's a Brother Martin legacy and sports his father's 1983 Brother Martin class ring every day. While Lucas recognizes the significance of familial tradition in New Orleans' school rivalries, he argues it's also more than that.
"Since New Orleans is such a Catholic city, parents want to educate their kids in that Catholic setting, and I think that's only compounded by the fact that it's inter-generational," Lucas said.
Carolyn Favre agrees. Favre is principal of St. Mary's Dominican High School, an all-girls Catholic school in New Orleans' Uptown community. She graduated from St. Mary's Dominican and has had three daughters and a granddaughter attend the school.
"It goes back to when New Orleans was predominantly Catholic and children went to the elementary school in the Catholic parishes where their families resided," Favre said. "There was a plethora of Catholic schools during that period, from the mid 1960s to the 1970s, and several religious orders who were over those schools."
While Favre notes the number of Catholic schools decreased after the 1970s, she said there are still around 20 Catholic high schools in the area today.
"It's a cultural way of identifying in New Orleans," Lucas said, "And I think that goes back to the fact that New Orleans was Catholic upon its founding. There's a reason why the cathedral is in the heart of the French Quarter. The fact that all of these schools have such strong communities stems from that…It's something I didn't know was weird."
Becoming a community
Lucas has a sister who attends Mount Carmel Academy, an all-girls Catholic school in New Orleans' Lakeview district. And as graduates of all-female Catholic schools in the area will tell you, the girls' school rivalries are no less intense.
"I played basketball in high school, so sports-wise it was definitely a really big deal," said Paige Franckiewicz, a 2016 graduate of Mount Carmel and an accounting junior at Loyola.
Franckiewicz considered Dominican to be her alma mater's biggest rival.
"We both have really competitive teams in just about every sport, so a Mount Carmel, Dominican game was a really big deal," Franckiewicz said. "It always drew the most crowds."
Franckiewicz's mother graduated from Mount Carmel in 1977 and has passed down her class ring to her daughters. For Franckiewicz that ring is a symbol of "a deep-rooted family thing."
"My sister started (high school) in the public school in our neighborhood, but she transferred (to Mount Carmel) at the very beginning of her sophomore year," Franckiewicz said. "It was funny because it was a big homecoming thing for my mom. From that point, when (my sister) went to Mount Carmel, I knew that's what it was going to be for me."
Even for recent graduates of area Catholic schools, like 2015 Dominican graduate Teresa Berner, there's a sense of nostalgia that permeates high school rivalries beyond one's teenage years.
"Now in college, I have friends I've made on my own that went to different schools," Berner said. "It's funny to have that rivalry still going on, but it's more of an 'Ah, remember the good old days' rivalry…It's nostalgic."
Attending an all-girls Catholic school in New Orleans reminds Kaelyn Johnson, a 2015 graduate of Archbishop Chapelle High School in the city's Metairie area, of sorority life.
"It becomes a community," Johnson said. "I've met women who have gone to Chapelle, and it's an instant connection…It's offered me a lot of opportunities with networking."
Johnson's two older sisters attended Chapelle, and her father coached the school's swim team. But she's also had cousins and a grandmother attend Mount Carmel.
"If one of us says something wrong or uses bad grammar we'll be like 'Where'd you go to high school, Chapelle?' 'Did you go to Mount Carmel? Where'd you get your education?' so we'll make jokes about that," Johnson said. "But it's all friendly banter."
For Michel, asking about acquaintances' alma maters has become somewhat of a reflex. He's aware of each school's stereotype but said they usually don't hold much weight.
"I find myself meeting a new person, talking and having a conversation and being like 'Oh, which high school did you go to' and sometimes being surprised," Michel said.
While Gallagher might not plan on cheering for an opposing team any time soon, the Brother Martin principal said New Orleans truly offers a "family of Catholic schools."
Kernion agrees.
"We're all working toward the same goal here of helping to educate our students in a Catholic setting," he said.
Still, there's only one right answer when someone asks if you attended the best high school in New Orleans: "Of course."
"It's a really special thing we pass on to our students, and hopefully they realize how special it is," Gallagher said. "I don't know that it's like that across the country."