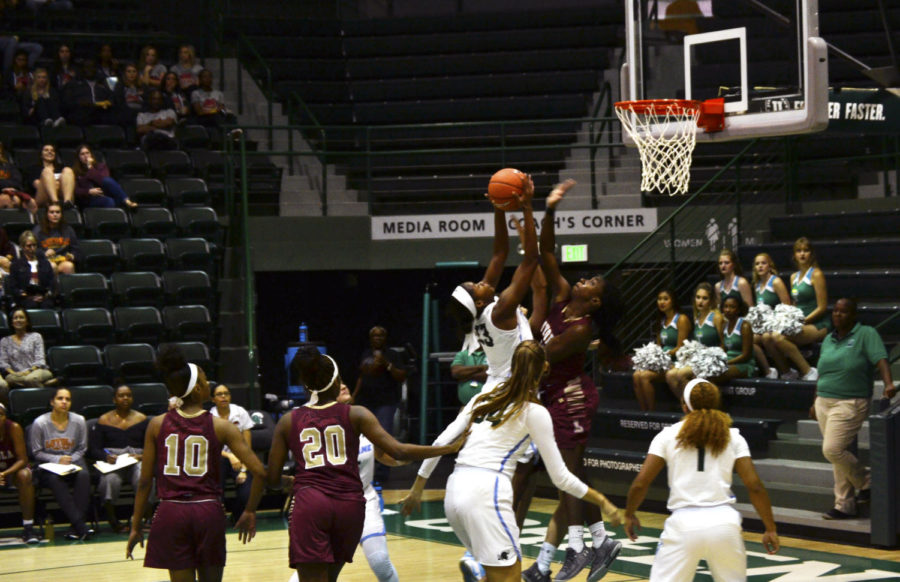 Andrew Lang
The Loyola women's basketball team fell in this portion of the Battle of Freret Street losing 48-89 to Tulane University.
International business and finance junior Kaila Anthony led the way for the Wolf Pack with 13 points shooting four for nine from the field.
For the Green Wave, junior guard Kayla Manuirirangi led the way dropping 20 points on the Wolf Pack, shooting 80 percent from the field.
While the Wolf Pack may not have won the game, they did win the first part of the Inaugural President's Challenge at halftime. President Tania Tetlow picked her team of three students to square off against Tulane's squad in a free throw competition.
Since the Green Wave lost this challenge, Tulane President Michael Fitts will have to wear a Wolf Pack jersey around campus for a day, according to Assistant Athletic Director Courtnie Prather.
The second part of the challenge is a battle of student attendance between both the men's and women's game. Prather said the school with the most students that attend between the two games wins school branded Freret Street signs, pending city approval.
Should that fail, the losing school will have to put up the winning school's banner that runs the length of a fence line on Freret Street according to Prather.
Director of Athletic Communications Mike Swartz cited the history the two schools have as why it's exciting to see it continue.
"These schools have both been around for a hundred years and have probably been playing each other in sports, especially basketball, for a significant part of that so it's kind of cool to see that tradition keep going," Swartz said.
The men's team will take on Tulane Nov. 1 at 7 p.m. at the Avron B. Fogelman Arena in the Devlin Fieldhouse.