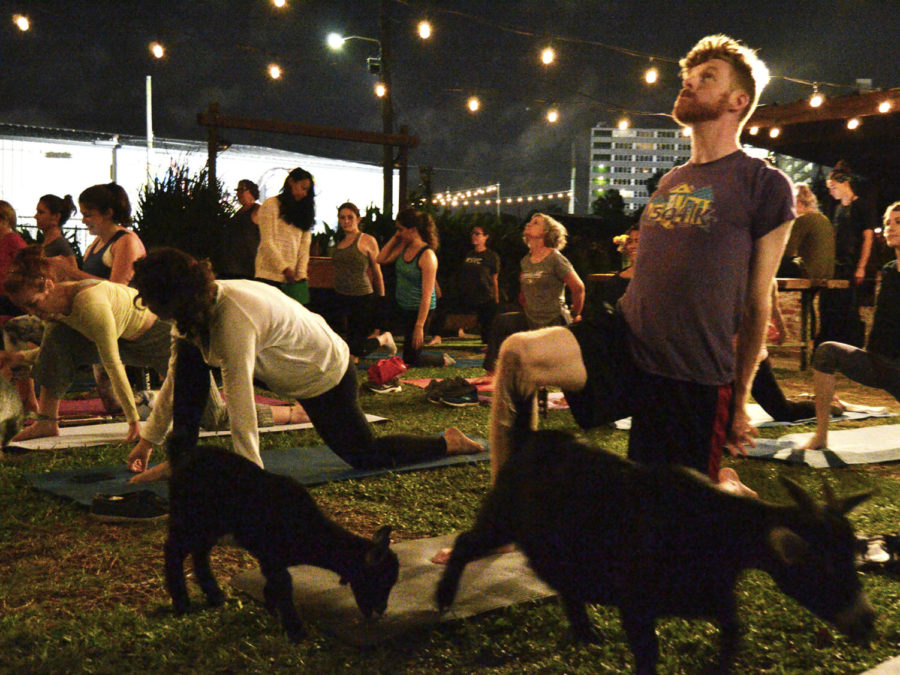 Andrew Lang
De-stressing at times can be a long, consuming practice. For college students dealing with immense amounts of stress, it can be hard to find the light at the end of the tunnel, but what if the solution to de-stress was tangible? And fluffy? Well, look no further than goat yoga.
The event takes place Monday nights and is structured by placing feed on your mat and letting the goats roam freely throughout the class. The goats run all around as people reach out and pet them. Joel Hitchcock, owner and manager of Paradigm Gardens, even allows class participants the opportunity to hold the goats, which many in-attendance use as a photo-op.
McKensie Kirchner, co-founder of NOLA Tribe Yoga, said this is third season of goat yoga. Kirchner said goat yoga is a great way to get people who are new to yoga involved.
"Yoga has therapeutic benefits and NOLA Tribe Yoga is always encouraging and trying to get people on their mats in the first place, and interacting with animals is a big way for people to do that, and in addition to getting a brand new crowd who are new to both Paradigm and yoga," Kirchner said
Kirchner also emphasized how having goats enables people to become less self-conscious.
"Part of yoga is not comparing yourself to others," Kirchner said. "Where you are that day is where you are supposed to be, and where you are on the mat is where you are supposed to be. What the goats do is take people out of that competitive state and make it a fun friendly, less stressful experience."
"This is the most relaxing setting with the lights, garden, and music. It's an enjoyable way to take a beat and take some time to focus on yourself on a stressful Monday, and to play with baby goats is an extra bonus," class regular Kristen Jones said.
As for the benefits for the goats, they have become extremely social and are very well fed after the yoga class according to Kirchner.
There are two remaining sessions for goat yoga this fall. Tickets for goat yoga can be purchased at eventbrite.com.
To add to their fluffy offerings NOLA Tribe Yoga said they hope to bring back kitten yoga partnering with the Louisiana Society for the Prevention of Cruelty to Animals in the near future.