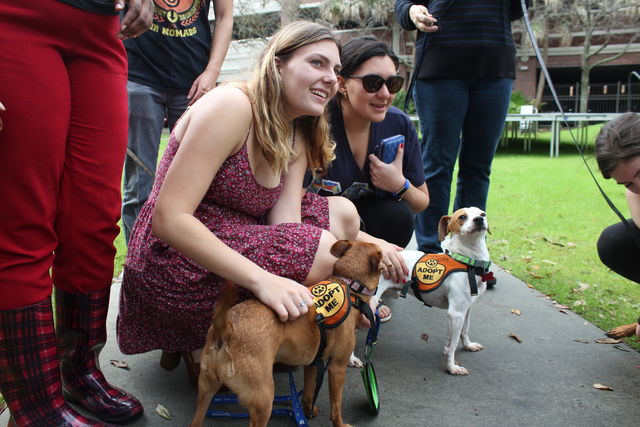 Cristian Orellana
With the help of some small furry friends from Zeus's Rescues, the Bateman team promoted its campaign, Designing Diversity, on Feb. 21.
The organization brought out dogs to help draw people to their table out in the Peace Quad.
"We're using the dogs to get people to get to our table to talk to them about diversity," mass communication senior and Bateman communications lead Crysten Price said.
The event was called Diversity for Dogs, and it was the second of the organization's list of events promoting diversity around campus. Their next event is Diversity Fest on Friday Feb. 22.
Many students attended the promotion, getting to play with the four dogs on show and signing the organization's diversity pledge. They pledged to try to encourage diversity in their workplaces.
"I feel like this is great," criminal justice junior Shondranell Brown said, "Not a lot of people talk about diversity, and combining that with the puppies is really cool."
Designing Diversity's main area of focus is the communication workplace, where public relations senior associate executive Asha Thomas says that a lack of diversity leads to people not being interested in communications.
"We're trying to raise awareness about the lack of diversity in the communication workplace," Thomas said.
Bateman's client this semester is the Public Relations Society of America. They are currently promoting their new book Diverse Voices: Profiles and Leaders.