Students react to return to campus after Hurricane Ida
Mixed emotions came from students returning to Loyola online and now in-person on campus as the aftermath of Hurricane Ida continues to affect the university community.
The storm made landfall in Louisiana on the 16th anniversary of Hurricane Katrina, leaving students scattered countrywide due to evacuation just one week into Loyola's first full capacity in-person semester since the beginning of the COVID-19 pandemic.
Loyola announced its return to class shortly after the storm, where students took classes online the week of Sept. 13 and got back on campus for class beginning Sept. 20. The university is now instructing professors to make up a class period worth of work, in addition to cancelling fall break. It cited the beginning of instruction date, however, as a necessity if it wasn't going to change exam dates or holiday vacation time.
Sociology senior Alex Smith said she thinks returning to campus two weeks after Hurricane Ida is too early.
Smith's internet connection remained spotty in the storm's aftermath and as Hurricane Nicholas caused a flash flood warning in New Orleans the week of Sept. 13. She said her Spanish professor even lost power during class and had to cancel the rest of it as a result.
Smith said her professors are also keeping a consistent workload. She said everyone is doing their best to catch up and that it's been overwhelming. She said she hopes Loyola is accommodating for those that are still recovering from Hurricane Ida and encouraged patience.
"It's not a magical day that people are just going to be fine," Smith said.
Latin American studies senior Sabah Bushi said she hasn't had Wi-Fi since returning to New Orleans Sept. 12, the Sunday before online classes started.
She said without Wi-Fi, keeping up with school was difficult, though she said professors have been nothing short of accomodating, giving her leeway in assignments considering her situation.
Spanish junior Nigel Tatum is excited to get back to Loyola, saying that seeing old friends and meeting new people on an in-person full-capacity campus was exciting.
"It's not exactly normal, but it feels a little bit more normal," Tatum said.
Tatum acknowledged that some people are still going to be displaced due to the storm in the coming weeks and said that the decision to come back to campus must have been "a difficult one" for the university.
Despite the difficulties, Bashi said she thinks Loyola is doing the best it can, adding that she doesn't think there is a preferable alternative to having started classes online and now being in person as of Sept. 20.
In what it called "an abundance of caution," the university also required a negative COVID test result of unvaccinated students and encouraged vaccinated students to also test negative before returning to New Orleans.
Tania Tetlow, university president, sent out a video to students during online instruction, assuring them New Orleans is cleaning up and ready to open up again.
"I can't wait to see you on campus," Tetlow said.
Leave a Comment
About the Contributor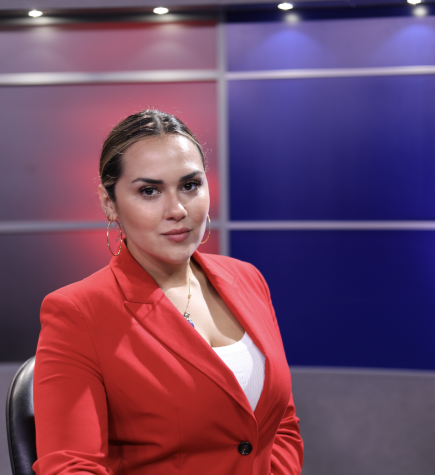 Gabriella Killett, Editor in Chief

Gabby Killett has been an award-winning journalist for The Maroon since her freshman year in 2019 before helping it win the top award in college media,...