Remembering Dr. Kelly Frailing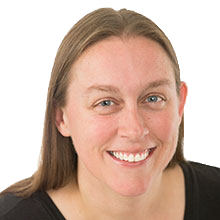 Loyola Criminology and Justice professor Kelly Frailing will be remembered most for her laugh and dedication to serving others, said Rae Taylor, an associate professor and chair of the department of criminology and justice.
Frailing died on Dec. 11, 2022 at 45 years old. She was loved and respected by all within the criminology department at Loyola, according to Taylor.
"She was such an incredibly dedicated professor who loved her students like they were family, and so that emotion will be here as long as we're all here," Taylor said.
Frailing was one of the world's leading experts on crime and disaster, a field she co-founded, and also held deep knowledge in other areas, such as mental health in the criminal system and specialty courts, according to Loyola's website.
Frailing received her Ph.D. in criminology at University of Cambridge in England in 2010 before teaching at Texas A&M International University, and then at Loyola University in 2015.
Frailing taught at Loyola for over seven years, and developed a strong connection to the city after receiving her master's in criminology and justice at Loyola in 2007, Taylor said.
Frailing started her master's degree in 2005, right before Hurricane Katrina. Not having anywhere to evacuate to, Frailing was welcomed with open arms into the family of her mentor, Sociology, Criminology and Justice Professor Emeritus Dee Wood Harper, Jr., according to Taylor.
It was during this time that she became close friends with Harper's daughter, Miriam Denis-Harper.
"When it became apparent that Katrina was coming our way, my parents suggested that I offer to bring Kelly with me to Birmingham, Alabama for the evacuation. We always loved to retell this story and had a whole Abbott and Costello routine down," Denis-Harper said.
"I met Kelly at 3 a.m. at the front door of my parents' house. As she tells the story, I barged in and yelled 'you unplug the AC, I'll get the animals,' but never actually introduced myself. It took only an hour or two to realize that we got along very well and so began an epic adventure."
Frailing was well known for her deep laugh and witty sense of humor, a trait that she always managed to hold fast to, no matter the circumstances, Taylor said.
"Even in the darkest times here, she had a way of just laughing about things that were out of her control and would bring some much needed levity. And so that's what I guess I'm comforted by, is when I think of her immediately in my mind, that image is that big smile and a big laugh and cracking a joke or something like that," Taylor said. "She was who she was."
Taylor added that countless students, alumni, and community members have since come forward after her passing to share stories of how she has helped and served others.
Harper agreed that Frailing was someone who embodied the Jesuit value of being with and for others. He said that Frailing worked quietly and never asked for recognition, and that she gave her entire self to everyone and dedicated her life to educating those around her.
"Her humility as a person gets in the way of being famous. Although, anyone who worked with her, studied with her, learned from her will never forget her," Harper said.
Frailing was known to be someone who always reached out to others whenever they needed, according to Denis-Harper. A phone call from her always came at the right time.
"To be near Kelly was to feel important, loved, and heard," said Denis-Harper.
Family friend Shannon Cian said she met Frailing through the Harper family, yet they bonded even more after both women gave birth to their daughters around the same time.
"Our daughters were born roughly six months apart, so we frequently chatted shop about the joys and challenges of raising young girls/women at various stages of life." Cian said. "She was an excellent mother and role model to her young daughter, as well as to her many students and friends."
Cian said she feels beyond fortunate that Frailing came into her inner-friend circle, and that she will miss her everyday.
"Her knowledge of the world was vast and deep, and positively impacted both students and friends. She pushed people to question and think beyond the base facts," Cian said. "I am heartbroken that her time was cut short, and that we do not have the chance to continue learning from and laughing with her."
Frailing has published numerous articles and book chapters, and currently has a journal article out for review that she wrote with one of her students, Harper said. He also said that Frailing has a new contract for the third edition of her book, co-authored by Harper, "Fundamentals of Criminology, New Dimensions."
"I remain in awe of her intellect and work ethic. Without a doubt the hardest working university professor I have ever known," Harper said.
Frailing's memorial was held on Jan. 24 in the St. Ignatius Chapel. Many students, faculty, and members of the community came together to honor her in a celebration of life.
Provost and Senior Vice President of Academic Affairs, Tanuja Singh, awarded Frailing the inaugural "Kelly Frailing Online Teaching Excellence Award", an award that will be given to a Loyola faculty member each year for their contributions and improvements toward online learning.
"Kelly taught her students, especially her female students, to be courageous, to take up space, ask hard questions and generally to be a badass, just like their teacher," Denis-Harper said.
Frailing has contributed more to research than most academics do in their lifetime, yet held her highest achievement as being a mother, according to Taylor.
"She was just this incredibly kind, funny, generous, warm person who found her greatest joy in being Matilda's mom, being a mentor to her students, and enjoying a Miller Lite with her friends," Taylor said.