Knoth Resigns Amid Sexual Misconduct Allegations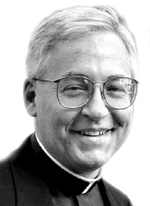 Lola Thelin and Katie Ide
October 8, 2003
Former president of Loyola University, the Rev. Bernard Knoth, S.J., resigned Tuesday morning, citing allegations of sexual misconduct in 1986. Loyola's Board of Trustees met Tuesday morning to review andaccept Knoth's resignation. The board then appointed the Rev. William J. Byron, S.J, as the interim president of the university.
In his open letter to the university, Knoth denied the allegations against him.
In a press conference Tuesday afternoon, Donna Fraiche, chairwoman of the university's Board of Trustees, announced that Byron would take overimmediately as interim president. She said that he will serve until a search committee finds a permanent replacement.
A statement from the Jesuit Order said the misconduct allegedly occurred in 1986, however the complaint was not filed until recently. The Indianapolis Star said that the incident occurred at Brebeuf Prepatory School at Indianapolis' Northwestside. No more information has been given as to the nature of these allegations.
Byron said Friesch told him that she was informed a week ago about the allegations and Knoth's possible resignation. The rest of the board was told about the allegations at a meeting Tuesday morning, she said. Byron had been working as a research professor at Sellinger School of Business at Loyola College in Maryland. He said he will return to Baltimore but will move to New Orleans in November. Byron is one of 29 members of Loyola New Orleans' Board of Trustees for 2003-04 that met for an emergency meeting regarding Knoth's resignation.
"I'll be coming back [in November] and my bags will be unpacked, and I'll stay here. I'll be here to listen and to learn," Byron said. "I'll be here to reestablish great friendships that I had some years ago when I was dean and taught here."
Byron served as the dean of the College of Arts and Sciences at Loyola University New Orleans from 1973 to 1975. He also worked as president of the University of Scranton from 1975 to 1982 and is a DistinguishedProfessor of the Practice of Ethics.
"I've been president of two universities, and I'm really proud to say that I've really cut my teeth in higher education administration here at Loyola when I came here in 1973 to be dean of arts and sciences."
Byron is involved in four directorships – Georgetown University Hospital, Loyola University New Orleans, CareFirst Blue Cross Blue Shield, and The Washington Jesuit Academy. He is a native of Pittsburgh and wasordained a priest in 1961.
Byron said he anticipates great experiences with faculty, staff and students.
"I've had great experiences with students in previous presidency and I would hope to have great experiences with students here but I'm here on an interim basis."