Wolves howl for Matt & Kim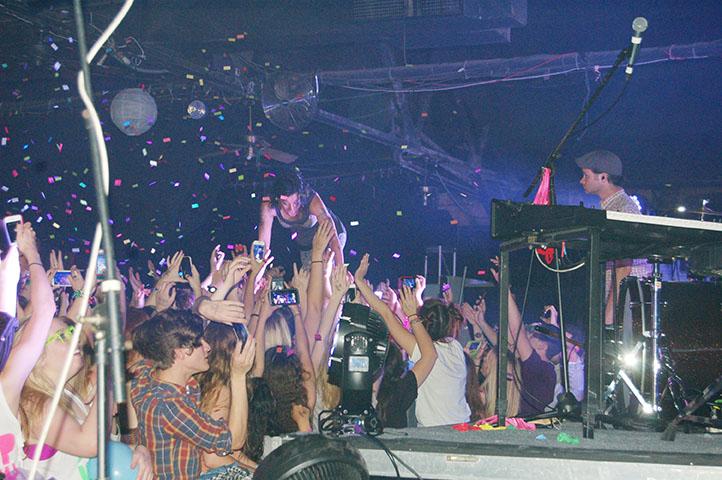 LAUREN IRWIN
April 19, 2013
Lauren Poiroux, sociology freshman, never thought she would spend her Thursday night dancing in a room full of balloons and confetti with indie dance duo Matt and Kim.
"It was the most intense, fun and personal show I've been too," Poiroux said. "Matt even held my hand. I left feeling like they were my best friends."
The University Programming Board was responsible for making Poiroux's night possible. UPB brought the Matt and Kim experience to the Loyola community, booking the Brooklyn-based band for the university's spring concert, Loup Garou, on Thursday, April 11, at the Howlin' Wolf.
UPB's concert committee spent months planning and marketing the event. They wanted to make the concert affordable for the students, while providing a headliner they would enjoy, Margaret Vienne, English writing senior and president of UPB, said.
"We pushed marketing much more and much earlier," Vienne said.
It was the first year UPB provided shirts for students – selling white tank tops emblazoned with "Party with Matt" and "Party with Kim" in neon lettering.
Marketing efforts and ticket sales may be the reason why this year's Loup Garou attendance was the largest to date.
"We sold 1,250 tickets, including general admission," Vienne said.
UPB sold out tickets, hitting the club's capacity at 1,300.
It was also the first year UPB added an additional band in between the opener and headlining act.
"We wanted to get a little more hype for the headliner, so we added one more act – that was Delta Rae," Vienne said.
Loyola rhythm and blues band, Eugene, opened the concert after placing first in the UPB sponsored Battle of the Bands three weeks before.
Opening for Matt and Kim "was such a wonderful opportunity," Emmanuel Catanzariti, music industry junior and vocals, rhythm guitar and keys for Eugene, said.
Eugene played all original songs – one of which, "Hiatus," will be released Friday, April 19, on the band's website.
"We got great feedback," Catanzariti said. "Everyone seemed to be having fun and we were having fun right along with them."
Eugene was followed by folk, rock ensemble, Delta Rae, hailing from Durham, NC.
Delta Rae was brought in to provide a "good mix of music," Vienne said.
Students agreed.
"It was a nice contrast to Matt and Kim's high energy and fun style," Crystal LoCicero, finance senior, said.
"Delta Rae's musicianship was super impressive; they were music for music's sake," Poiroux said. "Matt and Kim were more about entertaining and connecting with the audience."
"The whole show was just a mountain of excitement; they got you more pumped until you were totally entertained," Poiroux said.
UPB considered the show a success.
"It was so great to see students and community come to together for the show," Vienne said. "There was such great energy from students."
Lauren Irwin can be reached at [email protected]