Column: Strive for greatness in all you do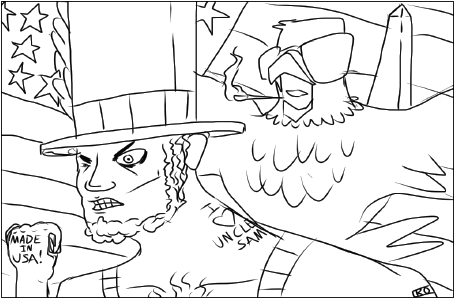 Hang on for a minute...we're trying to find some more stories you might like.
Last year in my English class, my professor had us collectively read a short article about the decline of America. It discussed how America was no longer leading the world in a variety of different categories and our overall ranking went from number one to number 16 amongst industrialized nations.
Once we were done reading the article, my professor opened up the class to discussion on the issue. It was then that a classmate of mine said something that I will never forget: "I don't understand why Americans think we have to be the best at everything. Who said there's anything wrong with sixteenth place?"
"What's wrong with sixteenth place!?" I thought to myself. "Are you crazy?" The comment made by my classmate really got me thinking, and I reached the conclusion that her comment encapsulated a negative, defeatist attitude that too many Americans have adopted. We all strive for "The American Dream;" it is not a catchy phrase, a myth or an unobtainable illusion, but rather something real and attainable.
Take for example my grandfather's generation, also known as "the greatest generation." That was a generation of Americans who stuck out an economic depression, answered their country's call to fight tyranny in World War II and worked tirelessly to make a better life for their children. It was that same generation that propelled this nation to number one in every major measured category. I wonder how they would feel about coming in sixteenth place.
I certainly can't speak for my misguided classmate, but what she said seems to exemplify a lot of our generation's issues. People don't fail anymore, they "fall short of success," and don't forget, everyone gets a trophy simply for participating. Many people today are comfortable settling for less than the best. I, however, don't feel that we should ever feel comfortable settling for mediocrity.
My father raised my brother and I to be winners, and I believe that this is a mentality with which we should all be instilled. My brother is currently serving his country as a combat engineer in Afghanistan, and I couldn't be more proud of him. Joining the service is one hell of a commitment, and I have nothing but the utmost respect for people like my brother and those that serve and defend our freedom.
I am not saying armed service is the only way to serve this country, but rather we should all at the least put our country first. We should all embrace American exceptionalism, no matter what we choose to do with our lives, and try to work hard so that America remains the greatest country in the world.
It was John F. Kennedy who, in his 1961 inaugural speech, said, "Ask not what your country can do for you. Ask what you can do for your country." I know that if all Americans lived by these words today, we wouldn't be moving away from the top, but would instead be maintaining our status as the world's greatest nation.
What I propose is this: Let's become America's next, "greatest generation." Let's ask "what we can do for our country," and let's shake this second place mentality (or in this case sixteenth place) and get back to where this nation should be – number one.
John Mehr is a political science senior and can be reached at
In My Opinion is a regular column open to all Loyola students. Those interested in contributing can contact [email protected]