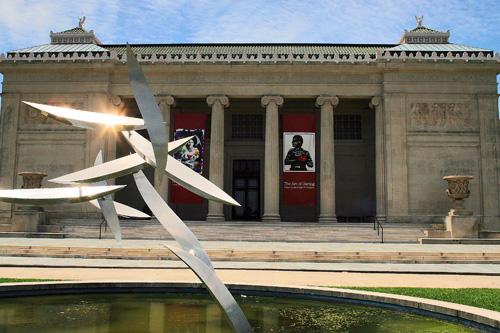 TOM MACOM/THE MAROON
Never mind the economy, summer is just a money-guzzling season regardless of the Dow Jones Industrial Average.
Gas prices go up because people are traveling. If your electric bill isn't sky-high by now, you're one of the few lucky ones.
And, while you might be working, chances are it's only part time and you still spend the majority of your time watching reruns for hours on end because the aforementioned expenses consume your entire paycheck.
Luckily, New Orleans offers many remedies to the bored, and more importantly, destitute. Here's your all-access pass to everything free this summer.
The New Orleans Museum of Art
Summer heat in the Deep South will get much worse before it starts to get better sometime in October, so if you desperately need a place to escape the heat and hub-bub of the city, the New Orleans Museum of Art is a good place to spend an afternoon.
Filled with a variety of paintings, photographs and sculptures, there are collections to satisfy just about every taste. "The Art of Caring", located on the first floor, is one of the featured exhibitions through Oct. 11.
The showcase weaves through different aspects of life through photographs, emphasizing such subjects as family, wellness, disaster and love. Each themed room is a different representative color bringing each of the photographs a more symbolic emotion.
The museum offers Mid Week in Mid City, a community event in which educational movies and tours are given.
In addition to being a cool (literally) retreat, the museum has a small café. Admission to the museum is free for Louisiana residents and students, though a donation to keep it that way is never a bad idea.
NOMA, which is located in City Park, is about 15 minutes from Uptown, but if you want to save gas, take the St. Charles streetcar and transfer to the Canal streetcar. It takes a bit longer, but the $3.00 roundtrip cost makes up for it.
NOLA Brewery/Defend New Orleans Scavenger Hunt
Free beer and free t-shirts – what every college student lives for. Add in a photo scavenger hunt that quizzes your New Orleans savvy and you've got an afternoon of competition which makes the former completely worth winning.
"We wanted to have an event where we get people out in the summer," said Jeremy Labadie, vice president of sales for NOLA Brewing.
The hunt, aptly named "So You Think You Know New Orleans?" starts at the Tchoupitoulas Street brewery and sends teams all over the city looking for clues towards the final destination – a keg party and the launch of Defend New Orleans newest t-shirt design.
"We didn't want to do a pub crawl at the same three bars. We wanted to do something different and that's kind of our image as a brewery," said vice president Dylan Lintern.
The brewery was inspired to host a scavenger hunt when Lintern, who is from San Diego, was consistently clueless about different iconic places in New Orleans.
They decided to partner with Defend New Orleans because of their ability to influence the New Orleans public with the brand's current popularity.
"We're really impressed with what they've done since the storm with the city's image," said Labadie.
The scavenger hunt is completely free and open to the public. All you have to do is show up at the brewery on Saturday, June 27 at 1 p.m. with your team of two to five people, some mode of transportation and a camera.
Provided you find all the items, you will receive a stamp and unlimited beer.
The winners will receive the brand new t-shirt, as well as NOLA Brewery items.
Tipitina's Free Friday Series
In a city known for its music scene, there are bound to be free shows, but it isn't too often that the lineups include sell-out performers who fill venues for $20.00 per ticket.
Tipitina's Uptown presents the return of their Free Friday Series every week this summer.
Last Friday, The New Orleans Bingo! Show brought in at least 100 fans, all of whom were more than happy to receive free admission.
"Experiencing the arts in New Orleans is a privilege," said Dietrich von Biedenfeob, A'04, after the show. "When it's free, it's more of an opportunity to experience the city."
Renowned New Orleans drummer Johnny Vidacovich will play with his band joined by New Yorker Shannon McNally on June 19.
The Soul Rebels brass band, one of the more notable shows, will play July 10.
If Friday really isn't your scene, there is Homegrown Night on some Thursdays, which boasts a $2 Abita special.
Tipitina's Uptown is located at the corner of Tchoupitoulas Street and Napoleon Avenue.
Jewish Community Center Maccabi ArtsFest
One of the best ways to get in free anywhere is to volunteer at an event or place.
This year New Orleans is hosting the Jewish Community Center Maccabi ArtsFest, a week dedicated to showcasing the talents of Jewish teens from around the world.
According to Stephanie Krell A'07, who works at the Metairie Jewish Community Center, is looking forward to volunteering this year and has been advertising the event on Facebook in order to encourage friends to help out.
"I'm really excited. It'll be my first year volunteering," said Krell.
The festival is August 2 through 7 and the New Orleans Jewish Community Center is looking for volunteers for all aspects of the week. To get more information or to register to volunteer, go to http://www.artfestnola.org.
Lauren Navarro can be reached at [email protected]