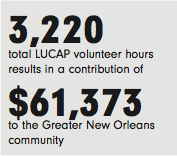 Loyola University Community Action Plan is changing up the docket this year, adding new initiatives and reviving past traditions.
The organization is working on "Rock the Vote," planning a centennial service event, reviving the Fort Benning Protest trip and looking for new initiative and leaders to add to their collection of nine semester-long projects.
LUCAP is teaming up with six other student organizations to "Rock the Vote" on Loyola's campus for the upcoming presidential election. "Rock the Vote" focuses on registering new voters, helping out-of-state voters apply for absentee ballots and providing students with tools to be better informed.
"Our goal is to register 300 students to vote," said Jackie Joseph, LUCAP's external affairs chair and political science junior. "Registration drives will continue until the last state closes its voter and absentee ballot registration."
In addition to "Rock the Vote," LUCAP has a large-scale centennial service event in the works.
The organization is also attempting to bring back the once annual-November trip to Georgia for the Fort Benning Protest.
The protest is a rally against human rights abused by the School of Americas, a United States Department of Defense center believed to train Latin-American military in torture and murder tactics. The Fort Benning Protest is also held as a vigil for the 1989 murder of six Jesuits killed by military members.
"We haven't done the trip in two years," Joseph said. "When LUCAP started, the protest was the first thing the organization did."
LUCAP is entirely student initiated and led; faculty, staff and LUCAP executive board members cannot begin or lead projects.
"We are looking for new projects and new ideas – as long as someone is willing to do it, we will draft the paperwork," said Joseph.
Without student leadership or interest, well-established projects die down.
Currently both Boys and Girls Club and Shrockin' projects are without leaders.
LUCAP's Boys and Girls Club, a mentorship program for local, underprivileged elementary students, is looking for students "who are responsible, passionate and will give the project consistency," Joseph said. "Children in the program need to be paired with consistent people to establish a bond."
Shrockin', an initiative that works with the St. Bernard project to continue to rebuild post-Katrina, "is not as big of a commitment as Boys and Girls Club – they don't need consistency of faces, just consistency in numbers," Joseph said. Leadership would be responsible for the logistics of setting up two service days a month.
"Everyone in LUCAP is passionate and active in the community," Emily Bauer, sociology junior and project leader of Literacy Loyola, said.
Becoming active in LUCAP as a freshman, Bauer has been inspired by those who have mentored her in the program.
"The past two project leaders of Literacy Loyola have moved on to the Peace Corp in Africa," Bauer said.
LUCAP continues to plan signature service day events, such as Wolves on the Prowl, while working on nine semester-long projects.
Lauren Irwin can be reached at [email protected]