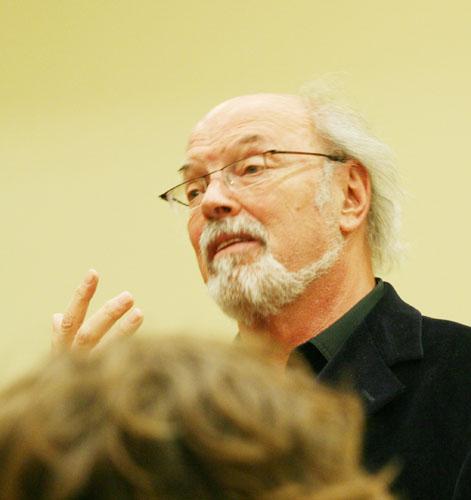 WADNER PIERRE/SENIOR STAFF PHOTOGRAPHER
A Loyola professor is working to bridge the gap between Loyola and the New Orleans Jewish community.
Mari Rethelyi, assistant religious studies professor designed an ongoing lecture series last year to maintain an open dialogue between the university and the Jewish community. The latest lecture, held Nov. 1 at the Center for Jewish Life, Tulane's Hillel House located on Broadway Street, featured Paul Mendes- Flohr, a University of Chicago professor and professor emeritus at the University of Jerusalem.
The idea for the lecture— people from different perspectives reaching each other in open dialogue—lies at the heart of the lecture series.
"The lecture series is happening with the full participation of the local Jewish community, which is a big deal given we're a Jesuit university," Rethelyi said.
That was one of the reasons the lecture was hosted at a Hillel House—an independent organization on campuses that provides a Jewish cultural center for those who need one.
"The goal is to make Jews more comfortable with a Catholic setting and with Catholicism and to make Catholics more comfortable with Jewish culture and Judaism. To know each other on more than an intellectual level," Rethelyi said.
Mendes-Flohr's standing-room only lecture Tuesday focused on Martin Buber, Franz Rosenzweig and their contrasting paths to spirituality.
Mendes-Flohr spoke mainly on the history of Buber and Rosenzweig's thoughts on Judaism and on religion in general in the face of Emmanuel Kant's challenges to religion. According to Mendes-Flohr, Buber and Rosenzweig were two leaders of the intellectual and cultural renaissance of German Jewry that flourished in the 1920s. Kant said that ethical action— the performance of good deeds facilitated by human capacity for reason—was the best way to serve God, and that ritual and prayer got in the way. The secular Buber and the religious Rosenzweig attempted to reverse this concept, claiming there was a place for these things in modern religion.
educated."
Daniel Quick can be reached at [email protected]