Column: Troubled students have options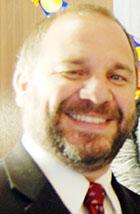 Salvadore Liberto
October 24, 2012
Hang on for a minute...we're trying to find some more stories you might like.
Perhaps it was that I was placed in a residence hall miles away from the main campus, the fact that I had yet to find "my people" or that my hair froze on the way to the bus that morning, but I was ready to transfer from Boston College toward the end of my first semester there. Always my biggest fan and critic, my mother sternly told me to try to find people with whom I shared interests and to extend the towel drying of my hair by five minutes. Did I want pneumonia, she asked?
Looking back from more than two decades of experience, my mother's advice was correct and timeless. I at last found people and groups with whom I could relate. I poured myself into my experience, eventually becoming a leader on campus and graduating with honors. It was a rocky start, but the lesson was clear: what matters most is not so much how you start the worthy endeavor, but how you finish.
Even a cursory look at The Maroon these days offers one a glimpse into a discussion that we have been having at Loyola: How do we improve student retention and student success?
It is a worthwhile question. One of the elements of my job is to help answer that question and to create and implement strategies that keep more students here each year and increase graduation rates. Much of this work is student-focused, and so I've chosen to reflect on that in this space.
We always encourage students to spend some time working on their "fit" with campus. This goes for all students, but the ones with the most trouble with this are those who were more like me as a college student – somewhat introverted (as defined by deriving energy from time spent alone), not prone to partying and more interested in ideas than entertainment. Looking at the feedback from the recent freshman retreat, it is clear that we have many deep-thinking, philosophical and spiritual students on campus.
If you are having academic difficulty, you are not alone. Almost all students feel the challenges of a rigorous curriculum in at least a few classes in their time in college. Be sure to create a schedule that carves out large swaths of time to address your academic work; be sure to build in some margin for error. Reduce your distractions and don't miss any classes. Be sure to utilize our academic resource center and your faculty for personal help.
Students who are dealing with financial challenges can always see our office of financial aid to make sure they have attended to all the details of their financial aid awards. This includes completing any missing paperwork and investigating additional loan options. We know that college is a challenging, but worthwhile, investment for some families. Our programs are designed to help make paying for college possible. Loyola compares very favorably on price and funding to our private university peers across the country. In fact, we offer value very near the top of the colleges we are most like, our fellow 28 Catholic, Jesuit institutions across the United States.
I ask all students to encourage each other. While faculty and staff are largely responsible for offering guidance, it is my experience that peer-mentoring can have as dramatic an effect. This is the Ignatian way: persons serving each other and all of us working together to grow in knowledge and consciousness. Also, I ask students to be mindful of being courteous in common space, especially in the residence halls where not everyone keeps the same schedule or shares the same level of extroversion.
We expect persistence and graduation rates to improve – to grow revenue and improve our rankings to benefit current and future Loyola students, sure – but, primarily, we want each student to be successful, to enjoy their time here, to develop and grow spiritually, to become a great thinker and leader. Student success is a huge part of the retention equation, but fundamentally, it is an end in itself.
Let's continue to work together to create a Loyola that lays claim to more student success, year after year.
Salvadore Liberto is vice president of enrollment management and associate provost and can be reached at [email protected]
On The Record is a weekly column open to any member of Loyola faculty and staff Those interested in contributing can contact [email protected]