Burgers are coming to town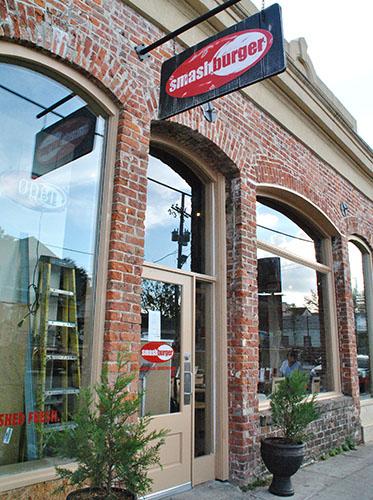 Lauren Irwin
September 20, 2012
Forget fro-yo destinations and bars-turned-sushi places because Uptown has burgers on the brain. The all-American hamburger joint is trending in the 504 with multiple restaurants popping up recently.
In a span of a 30-minute walk or 10-minute car ride, students can get their beef fix from restaurants that take the American tradition of the hamburger seriously. Galaxies out of the McDouble's league, these patties bring hamburger lovers to heaven for $10 or less.
COWBELL
8801 Oak St.
Hours: Tuesday-Thursday: 11:30 a.m. to 3:00 p.m., 5:00 p.m. to 10:00 p.m. Friday-Saturday: 11:30 a.m. to 3:00 p.m., 5:00 p.m. to 11:00 p.m. Sunday-Monday: Closed
Located in an old gas station, Cowbell takes pride in its free-range, handcrafted patties, as well as their specialty homemade sauces and freshly sliced, double fried French fries. This is all included in a full-burger meal that will cost you around $10.95. Not feeling a burger? The menu sports plenty of entrée options priced between $8.99 and $17.99, such as grilled gulf fish tacos, adult style grilled cheese and lime-grilled organic chicken. Cowbell's honestly organic dishes keep in line with the restaurant's honest attitude. The menu reads: "No separate checks. (Do Not Ask, The Answer Is No.)" and "For those of age, the corking fee is "$1,000,000.00 (100% goes towards National Debt. Honest.)"
TRUBURGER
8115 Oak St
Hours: Tuesday-Thursday: 11:00 a.m. to 9:00 p.m. Friday-Saturday: 11:00 a.m. to 10:00 p.m. Sunday: 11:00 a.m. to 8:00 p.m., Monday: closed
Building burgers from the ground up is what Truburger does. Pick your protein, add your dairy and choose your extras, ranging from a fried farm egg, to apple smoked bacon to avocado For newbies or the indecisive burger builder, Truburger grills up standard and rotation specialty burgers with names such as "Red Neck Special," "South of the Burger" and "The Heat." Truburger is located just a block off of S. Carrollton's streetcar line on Oak Street. Burger prices range from $4.99 for the most simple of burgers to upwards of $8.99 for some of their specialty burgers. But set aside a couple of extra bucks for a side or two – their fries and shakes are definitely worth it.
BUD'S BROILERS
3151 Calhoun St.
Hours: Monday-Saturday: 11:00 a.m. to 9:00 p.m. Sunday: 11:00 a.m. to 7:00 p.m.
Bud's Broilers, a local New Orleans hamburger chain, serves up classic charbroiled hamburgers to Uptowners on Calhoun Street, just a block off of Claiborne Avenue. Since 1952, Bud's has been broiling hamburgers and, moreover, charcoal. They now have seven locations around the Greater New Orleans Area, with the Calhoun St. location being the newest addition. This no-frills locale gets to the essence of the traditional burger joint: burger, fries (chili or cheese), onion rings, shakes and fried pies stack the menu. Anything meaty is served on a burger bun, including hotdogs, chicken and crab cakes. For a little more flavor, add on the secret hickory smoked sauce, a Bud's original. The oldest and least expensive burger restaurant around, Bud's simple one patty hamburger is priced just under $3.
THE COMPANY BURGER
4600 Freret St.
Hours: Sunday-Monday: 11:00 a.m. to 3:00 p.m., 5:00 p.m. to 10:00 p.m. Wednesday-Saturday: 11:00 a.m. to 3:00 p.m., 5:00 p.m. to 10:00 p.m.
The cow responsible for this burger is from Creekstone Farm in Arkansas City, Kansas and was raised hormone and antibiotic-free – just the way The Company Burger likes it. Choose between the $6.50 5.5 oz. single or the $8.50 6.5 oz. double patty burger, topped with two slices of melted American cheese and thinly sliced red onion. Located right in the heart of the revived Freret Street neighborhood, The Company Burger serves it's beef on locally baked and buttered buns with sides ranging from tater tots to sweet potato fries.
SMASHBURGER
3300 Magazine St.
Hours: Sunday-Thursday: 10 a.m. to 10 p.m., Friday and Saturday: 10 a.m. to 11 p.m.
Smashburger lives up to its name: the cooks don't squish burgers, they smash them. With no frozen patties in sight, the national burger chain believes in smashing Angus beef meatballs every morning and grilling them up fresh. The burger chain, which just opened on Sept. 19 at their Magazine Street and Toledano location, serves up $5 to $7 burgers. Other menu highlights include milkshakes made with Haagen Daz's ice cream and regionalized eats like fried-green tomatoes and andouille-sausage sandwiches. The furthest burger joint from campus, Smashburger is more than a 10-minute car ride away, but it is conveniently located near popular shops such as American Apparel and Buffalo Exchange.