Basketball captures win against WCU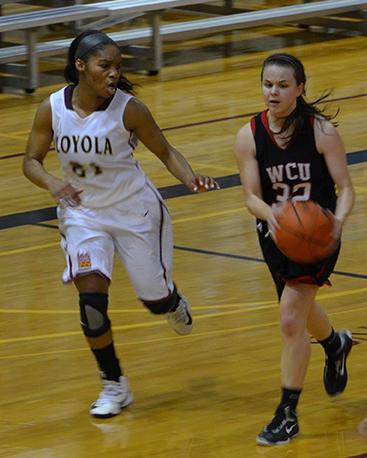 SARAH SZIGETI
January 25, 2013
Janeicia Neely, mass communication sophomore Pack member came in with 21 seconds left, passing the ball to Rebekah Greer, a sophomore psychology major, giving Loyola the points they needed to score a win against William Carey University Thursday night in The Den.
Loyola first took the lead thanks to Neely and Shayne Charles with a 7-0 run. Before the second half was over Loyola's lead increased to 11, but William Carey's offense stepped up and minimized the lead to only two.
With about six minutes on the clock, William Carey got their first lead with a quick 4-0 run and held that for most of the quarter.
Charles, a rookie on the team, hit three of her 17 game total points to take back the lead with only two minutes left in the game. A scramble at the 37 seconds mark left Loyola trailing for a total of 16 seconds before Greer's winning three pointer.
The two teams were battling for third place in a five-way tie in the Western Division of the Southern States Athletic Conference, and after this game Loyola (4-3) leads William Carey (3-4) in their division.
"Our division is tough. All five teams are all right around each other in a pack," head coach Kellie Kennedy said. "But we can definitely finish in the top three."
It was obvious that the women had been battling, but the look of relief for a conference win was also visible. The women had last played Tulane, and left suffering a 41-81 loss.
This time, however, not only were they able to play hard and do what they love, but they took home a Southern States Athletic Conference win, which will continue to advance them in the journey to the SSAC Tournament in March.
Kennedy realizes the road they have traveled isn't over, and they still have a lot of work ahead of them.
"We've had to grow up a little this season. Our only goal now is to play the best basketball we can. That's what is going to get us to the tournament," Kennedy said.
Sarah Szigeti can be reached at [email protected]