Loyola Quidditch wins Battle of Privet Drive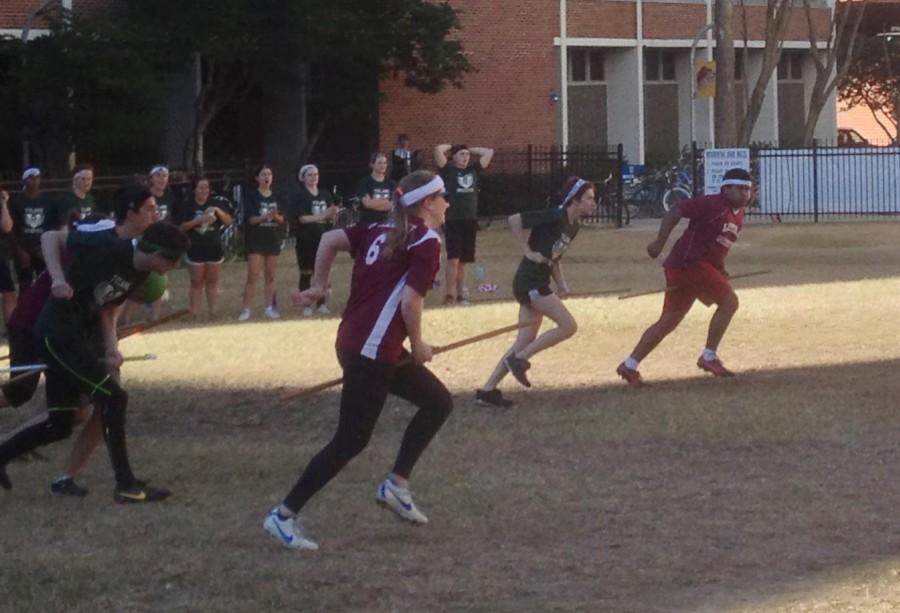 SARAH SZIGETI
January 23, 2014
Loyola Quidditch took on our neighbors, Tulane University, last Sunday at the Battle of Privet Drive and won all three matches: a trend that the players are hoping to keep as the World Cup approaches.
Jake Gomrick, music industries junior and co-captain of the team, said it was mostly the inexperience of Tulane's team that caused them to fall to Loyola- in fact all of the matches were quite close. He acknowledges that they are an athletic and skilled team. However, they only started their program last fall, giving them an underhand to Loyola's team.
"Their inexperience has allowed us to go undefeated against them since their program began. As game three demonstrates, they are getting a lot closer to our level, and if we don't keep striving to improve, it won't be long until they catch up," Gomrick said.
It has been four years since Quidditch was brought to Loyola's campus. They took second place at World Cup in Division II last year, however this year they will be in Division I. This means that they will be playing "the best of the best," said Steven Gergen, environmental science junior and captain.
"Maybe I'm pessimistic or maybe I'm just a realist, but we're not in the same league as the people we have to compete against now. If we do make it through, at least it'll be a learning experience," Gergen said.
Regardless, the team has not stopped practicing and perfecting in efforts to make them the best they can possibly be. They have added new workouts, as well as a newly structured defense, economics sophomore, Eric Jurgeson said.
"I believe our new defense, Hoops, worked really well on Sunday and definitely played into our wins against Tulane. It shuts down passes and clogs the hoops, allowing us to keep their shooting percentage very low," Jurgeson said.
Sian Hairston, psychology sophomore, said she is also noticing that their practices are helping them to become a stronger team. They strategize their practices increasingly after every match, as well as working on new drills that are constantly being implemented. Hairston said that all of these things are helpful, mainly because of how close the team is.
"We also recognize each player's weaknesses and build on those. Mostly we just all work together, and my teammates have become some of my best friends, and it really shows when we play together," Hairston said.
Gergen said the team will travel to Austin, Texas this coming weekend to play a tournament against "bottom of the bracket teams," which according to Gergen is the closest thing that still exists to Division II. Then, they will travel again to Oklahoma in February for the qualifying tournament for World Cup, the game where they will face teams such as Texas A&M and Auburn.
Whether it be pessimism or realism, these players know they are facing challenges in the upcoming months. However this will not stop them from continuing to strive to be the best on broomsticks around.
Sarah Szigeti can be contacted at [email protected]