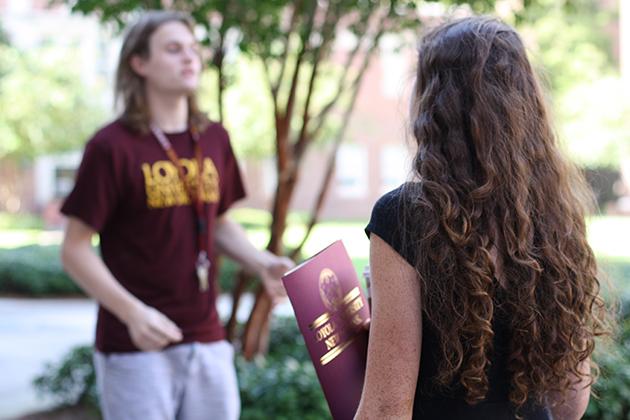 Linda Hexter
The student-led tours at Loyola are many prospective students' first interactions with life on campus, and because of this, the program is being revamped.
This fall, the Student Ambassador Program, which allows Loyola students to oversee tours of prospective students around campus, will be paying ambassadors for their work and requiring them to wear uniforms.
Roberta Kaskel, vice president of enrollment management, said that current student ambassadors are crucial to the admissions process.
"Prospective students and their families want to be able to envision themselves at Loyola. The best way for that to happen is for our prospective students to spend quality time with current students and our faculty," Kaskel said.
This school year, student ambassadors have transitioned from being volunteers to being paid members of the admissions team.
Maeve Brophy, student ambassador and music industry senior, said that ambassadors will be paid through payroll like other members of Loyola's faculty.
"Getting paid is definitely a great addition to the program," Brophy said. "This is an exciting new feature and will enhance the accountability of our ambassadors."
New ambassador uniforms have also accompanied the paychecks.
"The admissions staff and students agreed that we wanted the ambassadors to have a consistent look so that they can be easily recognized on campus," Kaskel said. "This fall, the ambassadors are wearing a Loyola polo shirt from the book store."
According to Kaskel, the appointment of student ambassadors has become more of a selective process as well. Every ambassador went through full-time training prior to the start of the school year and will continue to undergo training throughout.
"This change demonstrates how much we value the students and their hard work by investing in them," Kaskel said.
Music Therapy Freshman Catherine Comardelle's student ambassador guided tour influenced her decision to attend the university.
"My tour was pretty awesome," Comardelle said. "I was fairly sure I wanted to go to school here before, but it really convinced me it was where I belonged."
Brophy said she wanted to be a part of a program that allowed her to help students make this decision.
"Loyola has been a great place for me, giving me so many opportunities to become the person I am today," Brophy said. "Being a tour guide allows me to relay my personal experiences at Loyola in hopes that I can convince other prospective students that this truly is a special place where students can thrive."