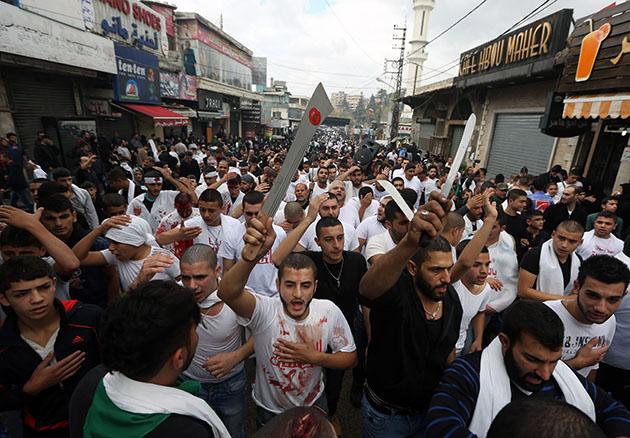 BILAL HUSSEIN / AP Photo
Minorities are being mistreated and victimized at a rapidly increasing rate in Syria, according to Congressman Chris Smith. This is due to a civil war that has devastated Syria for the past two years and has now claimed the lives of at least 100,000 people.
Christian Today magazine described how people in different minority groups are being killed on a daily basis by opposition forces upon the supposition that they are the supporters of the current regime. This has resulted in increased numbers of kidnapping, looting, rapes and en masse murders of individuals minority groups.
The increase in lawlessness has caused many Syrian minorities to fear for their lives and religious freedom, which are, at the present moment, in great danger.
All different ethnic and religious groups lived in peace and harmony in Syria before the start of the Arab Spring, a wave of protests in many different Arabic countries against authoritarian regimes, political corruptness and violations of human rights, which eventually resulted in brutal civil wars in many of these countries, including Syria.
64 percent of the Syrian population is made up of Sunni Arabs, while Sunni Kurds make up 10 percent. Christians make up another 10 percent.  Three percent are Druze and the Alawites, which are Shia Muslims, comprises of about 13 percent of the Syrian population.
Mohamad Al Halabi, Imam of the American Islamic Center in Florida and a Syrian himself, believes that the reason why minorities are being threatened and killed by opposition groups like ISIS is because these groups are being funded and supported by the United States, who he said he believes has its own agenda and wants to change the regime in Syria.
"When the U.S. support the rebel groups like ISIS, unfortunately they give them a lot of power to destroy the country. If this continues and these groups take over, then there will be no freedom for the minorities in the future and they will have no choice but to follow them," Al Hababi said.
He said he believes that the U.S. should stop supporting them.
Some others, like Hiba Elasaar, biochemistry senior, believe that it is the corruption of the Alawites, the ruling party in Syria that has given rise to extremists groups like ISIS who want to retaliate against the regime and are responsible for the destruction of the country.
Elasaar also said she thinks that the Alawites are being supported by the West, leading to the West ignoring many of their "illicit activities."
"The Alawites are a more progressive or Westernized sect of Muslims. If they are the head of the government, the Muslim threat to the West is kept in check. The Ba'ath party has a history of corruption since it was founded but for years, the West turned a blind eye," Elasaar said.
Adil Khan, assistant professor of Islamic Studies, said he believes that Syria's issues take root in the power struggles occurring in each locality.
Khan describes this as authority members in Syria trying to "fill the vacuum of lawlessness." On how the problem should be solved, he added that there is a "need to take a humanistic approach to the crisis instead of a simplistic one that preferences one group over another."