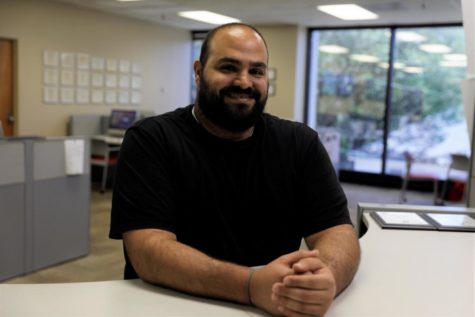 Previously, I have served as the senior staff photographer, and photo editor. I learned how to write stories and take photos during my time in the Army, and I loved writing and photography enough to major in journalism. I'm also majoring in political science.
Most importantly, I spend most of my free time with my three-year-old son Salah elDean.
My hobbies include photography, dad jokes, politics, reading, playing with my son in my backyard, and making pop culture references everyone is too young to understand.
Contact: 
[email protected]
Osama Ayyad, Staff Writer
Sep 14, 2018

The Wolf horoscopes for the soul

(Story)

Mar 03, 2018

Ad Team works on their annual campaign

(Media)

Dec 10, 2017

Opinion: Students should embrace a 4-day school week

(Story)

Nov 02, 2017

Golf team following through on goals

(Media)

Sep 06, 2017

Golf team aiming high in new season

(Media)

Apr 25, 2017

Men's golf team breaks Loyola records at SSAC Championship

(Media)

Apr 05, 2017

Women's golf takes 7th and men's take 15th in the Golfweek NAIA Spring Invite

(Media)

Mar 24, 2017

Greek Week rocks out with Airband performance

(Media)

Feb 21, 2017

Golf teams come in sixth in the Claude Jacobs Invitational

(Media)

Feb 14, 2017

Protesters respond to pro-Planned Parenthood rally

(Story/Media)

Feb 09, 2017

Golf team's preparation for spring season is in full swing

(Media)

Feb 09, 2017

Activists to host 'Black liberation in the Time of Trump' panel

(Story/Media)

Feb 08, 2017

New Orleans East comes together following devastation

(Story)

Jan 31, 2017

Locals stand against Trump's immigration and travel ban

(Story)

Jan 30, 2017

Locals stand with victims of Trump's "Muslim Ban"

(Story)

Dec 10, 2016

LUNA Fête lights up New Orleans for the holidays

(Media)