New Year — same bad habits? Stick with your resolution
As the countdown hits one, you have already voiced a thousand and one things you plan to achieve in the New Year.
"I will lose weight."
"I will get all A's in my classes."
"I will stop smoking."
The list goes on and on, and like the many who make their New Year's resolution, you probably gave up or forgot about them by February.
You are not alone. According to University of Scranton research, only eight percent of people achieve their New Year's goals.
Going into the New Year, we set resolutions because we know what we wish were different but have no drive to change. When we give ourselves hope about achieving unreachable promises, we are often confused on how we became one of the 92 percent to fail.
If you could flip a switch one day and have your new resolution accomplished, then there would be no need for one — you would already be living the life you want. This is why to make a resolution work, we must re-wire the way our brain works.
In a study published in the European Journal of Social Psychology by Phillippa Lally, a health psychology researcher at University College London, it was discovered that on average, it takes more than two months before a new behavior becomes automatic.
This is why the New Year's resolution needs to be put in the past and replaced with a New Year's goal.
Creating unrealistic goals is just asking for failure.  By starting slowly and working on one goal at time, there is a more likely chance of making your goal last the year.
Jade Stewart, English writing junior, set a goal for herself to work out at least three times a week by the end of the year.
"As of right now I've only been able to work out two times a week," Stewart  said. "I'm glad that I am able to at least get in two days because last year I could only do one or no days at all. I still want to try to hit those three days a week to achieve my goal."
Sometimes a New Year's goal does not have to benefit you directly. Kyle Bonnet, a Starbucks barista, has given himself a goal to make at least one person glad they have met him a day.
"I want my New Years' resolution to make people happy. I just want to put a smile on someone's face at least every day," Bonnet said.
A New Years' goal changes a resolution from wish to a plan of action.
About the Writer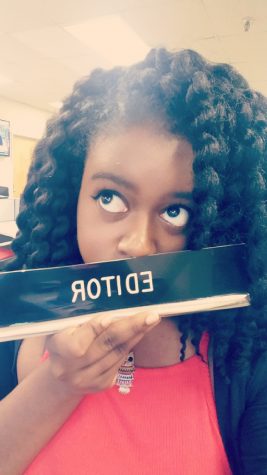 Starlight Williams, Editor-in-chief
Starlight is mass communication senior with a focus in journalism and a minor in legal studies. After serving as Assistant Life and Times Editor, Life...